Engineering Design Technology

Engineering Design Technology

Unmanned Air and Ground System Technology

Mechanical Design

Individual/Team Projects

Special Projects

Queen Anne's Revenge (QAR)

SSBN-X Concept Design

Virginia Class - Submarine

Project Quotes


Admissions/Records Website
Welcome to NRCC Engineering Design Technology
The Engineering Design program at New River Community College has been recognized by the American Drafting and Design Association (ADDA) as one of the top programs in the country.

The second year design students have produced advanced concept design projects such as UGV (Unmanned Ground Vehicles) & UAV (Unmanned Air Vehicles). These projects have brought a great deal of attention to the Engineering Design Technology program by companies such as:
Lockheed Martin's SkunkWorks in California (a top secret, black ops project team)
Huntington Ingals Naval Design Group in Newport News where the U.S. Navy's nuclear submarines and aircraft carriers are built
SAIC, one of the largest reverse engineering defense contractors in the world
Phoenix Integration, a D.O.D. contractor/software and product developer which brought aboard the Engineering Design Technology program as an "Academic Partner." NRCC joins with schools such as MIT, Stanford, Purdue University, Penn State, Virginia Tech Aerospace & Ocean Engineering and a host of others:

Multiple projects from past graduating classes incorporate concept designs which have received rave reviews by: Skunk Works, General Dynamics, Dr. Daniel Raymer, President of Conceptual Research Corp - Author AIAA as well as current AIAA President; and former Chief Scientist of the United States Air Force, Dr. David Thompson. Read more about NRCC Engineering Design >>
NRCC ENGINEERING DESIGN TECHNOLOGY (EDT) PROGRAMS:
NRCC ENGINEERING DESIGN TECHNOGOLY COURSES:
Not sure which courses you need to take? Talk with an academic advisor for assistance or visit the catalog and choose your program of study.
Visit the Admissions Website to Register for Classes
Enrollment Support:
HOW TO REGISTER FOR CLASSES
BECOME A STUDENT DETAILS
CLASS SCHEDULES
COLLEGE CATALOG
INFORMATION REQUEST
ACADEMIC CALENDAR
SPRING SEMESTER 2019
January 3
Thursday
Faculty Research
January 4-18
Friday - Friday
Faculty In-service
January 21
Monday
Martin Luther King, Jr. Day (College Closed)
January 22
Tuesday
Classes Begin
January 28
Monday
Last Day to Add w/o Instructor Approval
February 7
Thursday
Last Day to Drop and Receive Refund

***

March 11
Monday
Faculty Research (No Day or Evening Classes)
March 12-15
Tuesday-Friday
Spring Break
March 29
Friday
Last Day to Drop and Receive "W" Grade

***

April 9
Tuesday
Fall Registration Begins
May 6
Monday
Classes End
May 7
Tuesday
Exams Begin
May 10
Friday
Exams End
May 13-15
Monday-Wednesday
Faculty In-service
May 13
Monday
Grades Due from Faculty (noon)
May 14
Tuesday
Grades Available Online for Students
May 15
Wednesday
Graduation
*** Refund or withdrawal date for regular session only. Contact Admissions & Records Office for information on other session deadlines.
SEE FUTURE ACADEMIC CALENDARS
3D Model of Maker Space (Main Campus) Designed by: Jeff Levy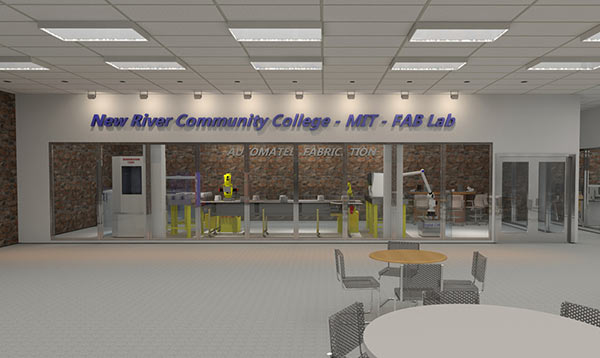 View 3D Model of Maker Space Images
NRCC EDT YouTube:
Visit the EDT YouTube Channel
LIKE NRCC EDT on Facebook:
Engineering Design Technology Contact Information
General questions and requests about Engineering Design Technology should be directed to Jeff Levy 1-866-462-6722, extension 4362, or (540) 674-3600, extension 4362.
You may also email jlevy@nr.edu.
Engineering Design Technology Faculty
Call (540) 674-3600 or toll-free 1-866-462-6722, then you will be prompted to add the extension number to reach any employee.
HAVE QUESTIONS ABOUT NRCC?
NRCC IN DUBLIN:
5251 College Drive
Dublin, VA 24084
(540) 674-3600
Toll Free: 866-462-6722
Fax: (540) 674-3642
MALL SITE:
782 New River Road NW, Suite 400
Christiansburg, VA 24073
(540) 674-3610
Fax: (540) 381-7128