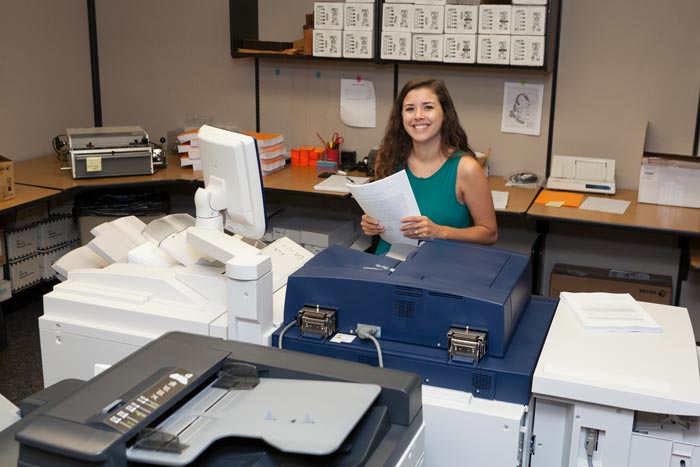 A walk-up copier is provided for faculty and staff use. A departmental access code is required for copier access and these codes are available from WPC staff. Instructions for using the copier features will be provided by the staff. Please ask for help at any time.

The walk-up copier is provided as a "quick service" copier for all college employees; therefore, your copy runs should be limited to a small number of copies. Please do not use the copier as a means to give your work/study student something to do. Hassles at the walk-up copier may be kept to a minimum if you plan to leave your copying jobs for the photocopy technician to do for you. It will make your job much easier. Also, remember that there will always be a line, so planning ahead is your best alternative. Please remove staples and make sure your pages are numbered. Please use "white out" sparingly and let it dry thoroughly.

The center also houses a digital color copier. Please see staff for copies and/or scanning. There is a 12¢ per page charge for color copies. These charges are paid through budget transfers.

Other equipment provided in the Word Processing Center includes a folding machine that will quickly fold stacks of one-page documents into triple, double, or accordion folds. A cutting board is available for cutting thin stacks of paper. Three-hole punches and heavy-duty staplers are also available. A networked high-volume laser printer is available for your network printing.

A coil bind machine is used for documents that need to be bound. If you have a college document that needs binding, please talk with the WPC staff.
HAVE QUESTIONS ABOUT NRCC?