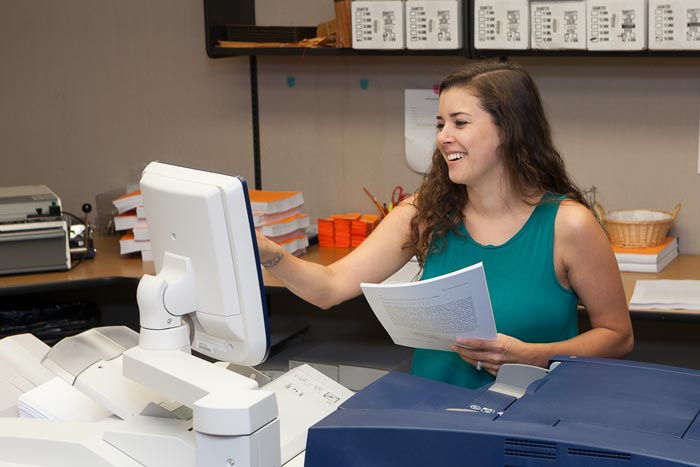 The Word Processing Center provides copy services for all faculty, staff and administrators. You may bring your copy jobs to the center, fill out a work order, and leave it for the Photocopy Technician to copy for you. There are no charges for copying services unless you request special paper (color bond, color cardstock, transparencies) or services such as binding in which your department must pay for the binders. All charges are made through budget transfers. See Charges.

Copying jobs that are of high volume (those that yield more than 100 total copies) should be left for the photocopy technician to copy for you. Work requests are available at the help desk and should be completed with instructions that indicate how you want your jobs completed.

NRCC cannot provide bound materials or documents that are intended to replace a textbook for students or prevent their purchasing a required text. A faculty-prepared textbook/workbook must be ordered through the bookstore using the same procedures as for ordering other texts. Your original may be left on file in WPC. If you plan to revise your textbook/workbook, please be sure that you let our staff know so that we will have your latest version to copy. A purchase order from the bookstore is required in WPC before the document can be copied.

NRCC does not provide copying services for outside agencies including not-for-profit organizations, professional organizations or churches. NRCC employees may request personal copies at 10 cents per copy payable at the Business Office. Students may make personal copies on the coin-operated copier in the LRC but not in the WPC. Please do not allow your students to use your access code to make personal copies.
HAVE QUESTIONS ABOUT NRCC?