Partnerships
Industry Partner
The New River Community College Engineering Design Technology program partners with multiple local, national and international corporations including companies such as Phoenix Integration, a D.O.D. contractor/software and product developer." NRCC joins with schools such as MIT, Stanford, Purdue University, Pennsylvania State University, Virginia Tech Aerospace and Ocean Engineering and a host of others: PHOENIX INTEGRATION.
In addition, New River's Engineering Design program has worked with and partnered with companies such as VOLVO, Federal Mogul, AMTEK, Northrop Grumman, Lockheed Martin, New Port News Shipyard, BAE.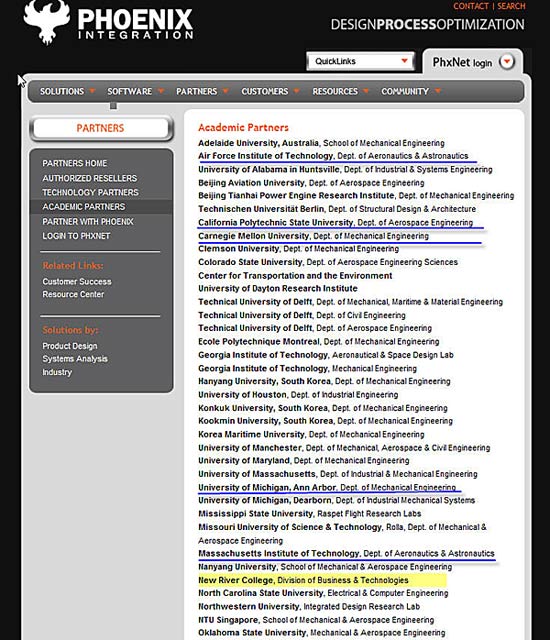 3D Printing/Additive Manufacturing at NRCC
New River Community College has a proven history of partnering with businesses and industries to provide cutting-edge training and re-training for existing workers and also providing a pool of new applicants who have experience with the latest technologies.
Come to our state of the art Engineering Design lab at our one of a kind site in Uptown Christiansburg (formerly NRV Mall) and let us show you our new equipment and describe how we collaborate to provide real - world experience to our talented students and to enhance the productivity of your business.

We have multiple 3D printing type technologies which include:
Sample Parts Produced by the ProJet
We also have a Dimension BST 768 Rapid Prototype (ABS Plastic) 3D Printer.

Sample Parts Produced by the BST
All of 3D printers produce fully functional 3D prototypes that allow for:
Product cost reduction
Vacuum forming
Marketing tools
Product markups
Testing of form, fit and function
Proving out of designs
Creating concept tooling
Parvus Corporation, a strategic systems engineering and development partner for aerospace, defense, transportation, and industry, builds model parts with a Dimension 3D Printer, reducing design time from five weeks to just one week. That equipment has helped the company expand its engineering capacity by making better use of staff and production resources.
About Workforce Development at NRCC
New River Community College is the #1 source for specialized training and professional development for the New River Valley's businesses and industries.
The workforce development programs can provide employers and their employees with:
tailored credit and non-credit training services delivered on-campus or at the location of the business or industry;
program/course design and development;
consulting services, facilitators, and speakers; and
networking opportunities and special events.
Training may occur on-site, on the NRCC campus in Dublin, at off-campus sites, in a rented facility, or a combination of these to create the most effective educational and training experience.
Customized Training
Workforce development staff can help assess organizational training needs and propose specific programs that will help employees meet their goals to improve quality, customer service, and workplace skills.
If specialized training is needed, the workforce development staff can provide curriculum development and instruction, drawing from the expertise of New River Community College faculty and others to meet the specific needs of employers.
Contact Dr. Mark C. Rowh, executive vice president for workforce development and external relations at (540) 674-3617 or mrowh@nr.edu.