Practical Nursing Program @ New River Community College
The practical nursing faculty supports the New River Community College mission statement that all people should have a chance to develop and extend their skills and knowledge and to increase awareness of their roles and duties as citizens.
The college serves the educational needs of the public and assumes a duty to help provide the requirements for trained workers in the region. The practical nursing program works with the college to prepare graduates with technical competence in basic nursing skills to help meet community health needs more information »
TEAS Information
NRCC currently requires ATI TEAS Version 6 for LPN admission.  Here are some important details: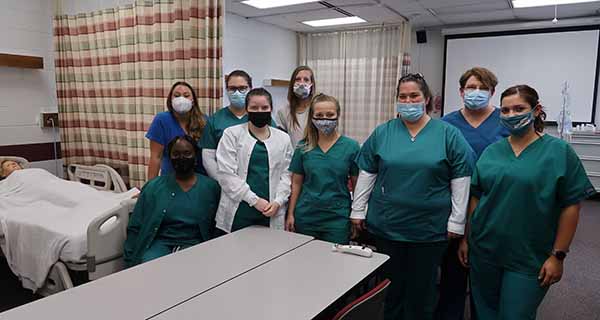 TEAS testing will begin on Monday, January 8th, in our DE testing center located inside the library in Martin Hall. 
Test times are 10:00 a.m. and 1:00 p.m. through January 19th.  Beginning January 22nd, testing will be offered Monday through Thursday at the same times through February 1st.
The cost of the TEAS test is approximately $58.00 and must be paid with a major credit/debit card at the time you take the test.
Please call 540-674-3600, Ext 4439 to schedule an appointment for your test time.
The program director encourages you to test early as she begins reviewing test scores and completed applications early.
The test is given online through ATI Testing. Study guides are available on their website https://atitesting.com or in the NRCC bookstore for $48 plus tax.
If the college is closed due to inclement weather on the day you are scheduled to test, you will be allowed to reschedule. You will be responsible for calling the testing center to reschedule.
If you want to use a previous year's TEAS score, please let Phyllis Anderson know so she can make sure she has a copy of this score in your folder. Remember that you can test once per year.
Contact Phyllis Anderson if additional information is needed.
NRCC currently requires TEAS Version V for A.D.N.
The annual passage rates for the NCLEX-PN (National Council Licensing Exam for Practical Nurses)
Annual Passage Rates
2016 -- 81.82%
2015 --77.27%
2014 -- 90%
2013 -- 88.24%
August 2013 graduates 100%
December 2012 graduates 77.78%
2011 -- 100%
2010 -- 100%
2009 -- 100%
2008 -- 100%
2007 -- 100%
2006 -- 100%
Special Recognition
In addition to the general school recognition, the practical nursing school is approved by the Virginia Board of Nursing.
Advisor
Phyllis Anderson
Nursing Admission Advisor
Phone: (540) 674-3600 ext. 4206
Office: Rooker 259
E-mail: panderson@nr.edu
Links
Below you will find helpful links to additional college nursing programs and health-related information.
Clinical Sites
NRCC faculty provide individualized mentoring in the clinical area. These clinical practices develop the clinical experiences of our students to prepare them to manage the comprehensive care needs of clients in a variety of clinical settings. Clinical experiences take place in innovative sites such as acute care facilities, outpatient clinics, home care agencies and private practice settings. These practice sites provide students with the diverse background necessary to prepare them to make sophisticated clinical decisions.
Faculty
»Melissa Minnick, BSN, RN
Assistant Professor of Practical Nursing
Education:
B.S. N. Western Governors University
A.D.N. New River Community College
Phone: (540) 674-3600 ext. 4437
Office: Rooker 221
E-mail: mminnick@nr.edu
»Mia Copeland, MSN, RN
Associate Professor of Practical Nursing
Education:
B.S. Radford University
A.D.N. Wytheville Community College
B.S. Radford University, M.S. Radford University
Phone: (540) 674-3600 ext. 4252
Office: Godbey 99
E-mail: mcopeland@nr.edu