NRCC Early Learning Center students graduate
May 07 2014
This is an archived article!
This article was published on May 07 2014 and was archived on May 08 2015. The information below may be outdated or inaccurate.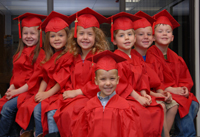 Seven pre-schoolers recently graduated from the New River Community College Early Learning Center (ELC). They will enter kindergarten this fall.
The children were honored at a special ceremony on campus in front of an audience of their family and friends.
The graduates were: Kyleigh Akers, daughter of Josh and Heather Akers of Dubin; Dani Carroll, daughter of Dean and Laci Carroll of Dublin; Landon Clark, son of Brian and Amber Clark of Radford; Caleb Cregger, son of Travis and Lynn Cregger of Pulaski; Peyton Harper, daughter of Gary and Stephanie Harper of Pulaski; Eli Lewis, son of Chris and Amanda Lewis of Dublin; and Rylen Martin, son of Jerry Martin of Pulaski and Amber Martin of Dublin.
The ELC is directed by Anne Simmerman.