NRCC student organization gives computers to students in need
Apr 14 2014
This is an archived article!
This article was published on Apr 14 2014 and was archived on Apr 15 2015. The information below may be outdated or inaccurate.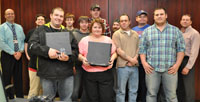 Once considered a luxury, a home computer is now something most people couldn't live without. Functioning home computers are especially important for college students, something New River Community College's Computer Club members know all too well.
The club, which began in Fall 2013, recently decided to undertake a service project to help get computers to NRCC students in need. The computer club students take donations of used computers from businesses and individuals, repair them if needed and then distribute them to students. Students desiring to receive a computer through the program must fill out an application explaining their need.
The club began the computer distribution program after their advisor, Dr. David Filer, returned from a peer-group meeting with information about a similar program being conducted at Tidewater Community College in Norfolk. "I thought 'wow, what a great idea!'" said Filer. "And our Computer Club students took to rehabbing these computers like ducks to water."
That turned out to be a very good thing, as the club received over 150 applications for computers from the program. "We were blown away," says Filer. "That really underscored the need for this program."
Computer Club vice president Erika LeonGuerrero notes that many of the applications came from single parents. "These are people who are working hard to finish school so they can find a job and provide for their children," she says. "Giving these individuals computers gives them both peace of mind and another tool to help them get where they want to go."
During one of the club's first computer distribution sessions, one excited recipient thanked club members and told them that having a computer at home meant she would have much more time to spend with her young children.
Previously, she'd spent hours on campus each day just so that she could use a computer to complete her assignments.
Filer says the computer club students have jumped on soliciting donations and that in addition to receiving computers from individuals, businesses including a doctor's office and a law firm have also contributed. He notes that when businesses decide to swap out office computers for new ones, they often have to pay an outside company to take away the used computers and recycle them. Donating to the NRCC Computer Club, he says, works for everyone. "We'll pick the old computers up for free, the business gets a tax deduction and we get to give them to deserving students."
And the computer club students aren't just free labor - they're gaining valuable industry-related experience with each computer they fix. "This is what these students want to do for a living," Filer says. "They're also gaining leadership experience by running the club and the computer program."
More information about the Computer Club may be obtained by contacting Dr. Filer at dfiler@nr.edu or 540-674-3600, ext. 4272.