Dislocated worker finds new purpose in NRCC program
Mar 31 2014
This is an archived article!
This article was published on Mar 31 2014 and was archived on Apr 01 2015. The information below may be outdated or inaccurate.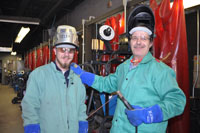 Forrest Whitney is a man who doesn't like idle hands. So, when he lost his job in the closure of Radford's Grede Foundry, he was anxious to find a new opportunity. That's when he discovered that he was eligible for Trade Adjustment Assistance program (TAA) funding that would help him become a student in New River Community College's PluggedInVA industrial maintenance program.
TAA is a federal program that assists U.S. workers who have lost their jobs as a result of foreign trade. It provides those workers with benefits and services to help them obtain skills to become reemployed. PluggedInVA programs are specially designed to prepare adult learners with the knowledge and skills needed to succeed in education, training and high-wage contemporary careers.
After years in the U.S. Navy, Whitney went on to work for various industrial companies and became a truck driver. His entrance to NRCC in January is the 50-year-old's first experience with college and he hopes the skills he's learning will help him find a job close to home and his wife, two children and five grandchildren.
Whitney, of Dublin, finds himself anything but idle these days. In addition to keeping a busy schedule that includes electricity, industrial safety, fluid power and machine shop classes, he's also brushing up on his general academic and computer skills.
He admits that while he's enjoying the challenge, details such as advancements in computer technology sometimes slow him down. "These kids have got such a head start on me," he says of his classmates. "But this is my chance to 'get with the program' and get caught up on things."
So he spends his sparse free time between classes studying and getting coaching from instructors and mentors in NRCC's Transitional Programs office, which oversees PluggedInVA programs. "They push me," he says. "But in a good way."
Despite the hard work, time and energy required, Whitney is a vocal supporter of the TAA and PluggedIn programs. "I'm awfully grateful for this program - I didn't think I'd ever be able to go back to school."
The infectious sense of joy surrounding his schooling has family members interested in furthering their education. His son-in-law has joined the college's welding program and his wife has her eye on pharmacy courses.
After he finishes the industrial maintenance program, he'd like to continue his education with another certificate or by earning a degree. "There's a lot more to going to school than just showing up," he says. "But I'm always open to new things."