Auto students take love of cars a step further at NRCC
Mar 13 2014
This is an archived article!
This article was published on Mar 13 2014 and was archived on Mar 14 2015. The information below may be outdated or inaccurate.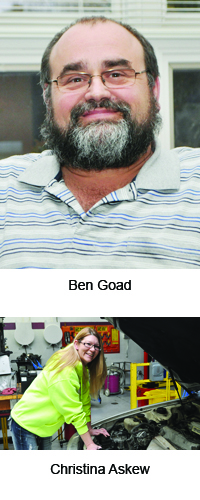 "I've always liked to work on cars." It's a simple statement, but it's what drew both Christina Askew of Christiansburg and Ben Goad of Willis to New River Community College's automotive analysis and repair diploma program. Goad is now an NRCC alumnus working at Jeff Johnson Chevrolet in Hillsville and Askew is on track to complete the program in May.
Goad's journey began like many others, with a layoff. He spent 25 years at Micrometrics in Meadows of Dan, but lost his job when the company shut down part of its operations and moved them overseas. That made Goad eligible for federal Trade Adjustment Assistance funds to help him pay for school.
When it came to deciding what subject to study, the answer was easy. Goad's father is an auto mechanic and Goad has a small garage at his home where he often works on his neighbors' vehicles. But he also knew that cars were changing and as a self-described "old-school" mechanic, it might be time for a refresher. "I thought, 'I'll go to NRCC and learn some new things.'"
And learn he did. "The automotive instructors taught me a lot about the newer things that I didn't know," he says. Goad was also surprised to find that he liked the learning process. "I didn't like school much when I was younger," he says. "And I wasn't sure I would like it here, but after I got started I really enjoyed myself." His enjoyment translated into excellent grades during his studies, something he used as a motivator for his 18-year-old son, who is getting ready to finish high school. "If I got all A's and he got a B, I'd give him a hard time about it," he laughs.
After completing the automotive program in May 2013, Goad began applying for auto mechanic positions, including at Jeff Johnson Chevrolet, near his home. They told him there were no openings for mechanics at the time, but that they'd keep his application on file. Goad then received a surprising phone call. "They asked me if I'd be interested in working in their collision center and when I said 'yes,' they invited me back to the shop the next morning." Assuming he'd be doing vehicle body work, Goad went back to the shop and discovered that the company wanted him to head up their collision center. This would mean that in addition to the occasional bit of shop work, he would write estimates, deal with insurance companies, order parts and supervise the center's day-to-day operations. He started work that very day and has been enjoying the work there ever since. A similar love of working on cars brought Christina Askew to NRCC's automotive program. Askew moved from Elkhart, Indiana to Christiansburg in 1999. She was working as a Certified Nursing Assistant, but eventually decided to pursue her registered nursing license.
After she started the nursing program, Askew felt like it just wasn't the right fit for her. That's when she made what some consider an odd leap - to NRCC's automotive program. That leap has worked out well. "I've loved every minute of being in the program," she says. "And some people think it's weird to go from nursing to automotive, but I tell them that I'm still taking care of stuff -it's just different stuff!"
Like Goad, Askew's father played a role in fostering her love for automobiles, letting her help him work on cars even as a little girl. Now, as an adult, she still enjoys the interactive nature of automotive mechanics. "We do a lot of hands-on work in class and the teachers are excellent," she says. "They're fun, they make it interesting and they really challenge you."
What about being a woman in a traditionally male dominated field? "Everybody thinks that automotive is a guys' world and typically it is," she says. "But women can do it too!" She says the stereotype doesn't bother her and she's ready to get into the industry and prove she's just as good as the men - or, as she'll tell you with a smile, better. And with a husband, eight children and more than 20 grandchildren, she's got a big cheering sec