NRCC student wins national writing contest
Sep 12 2013
This is an archived article!
This article was published on Sep 12 2013 and was archived on Sep 13 2014. The information below may be outdated or inaccurate.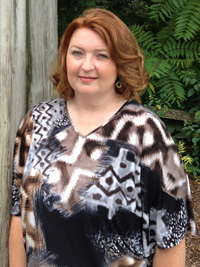 Angie Austin of Radford says she's "still in shock" after finding out that she was the first place winner in this year's national "Writing Rewards" essay contest held by Pearson Higher Education.
Austin is a New River Community College student in the medical office assistant and human services programs and as part of her studies, she took a course in English fundamentals with Dr. Paige Cash.
Cash had her students write essays as part of their coursework and Austin chose to write hers, entitled "The Measure of Strength," about her son Noah. The assigned essay topic involved choosing a scary life situation and describing what was learned from it. Austin told the story of her son's difficult birth. It involved a panicked trip to the hospital and frantic work by medical staff to remove the umbilical cord from around his neck - all while Noah's father was thousands of miles away serving in Iraq. She went on to describe the many trials her son has been through in his young life including multiple complicated surgeries, developmental delays, and being diagnosed with a genetic disorder and the strength he has shown throughout it all.
English has always been a strong subject for Austin. "My entire bedroom is just stacks of books," she says. "Reading and writing are definitely favorites of mine." But even with an existing love for the subject, Austin credits Cash with improving her writing. "Dr. Cash gives you so many resources, and is really willing to go out of her way to help you," she says. "She's been fantastic."
When Cash read Austin's essay, she encouraged her to submit it to Pearson's contest. Austin did just that and found out earlier this month that she was the first place winner.
She's a single mother of three, so in addition to the excitement that came with being named the winner, Austin says the $750 prize will be helpful too - especially with the holiday season on its way.
Austin also thinks her newly improved writing skills will serve her well in the future. She'd like to use her human services schooling and her volunteer work with the local Red Cross to find a job in the non-profit sector.
But no matter where she goes, Austin says she'll never forget the awesome feeling that has come with winning the contest. "I am still trying to process it," she says. "I still can't believe that out of all the entries, they picked little 'ol Angie from Radford."
She also says that she couldn't have done it alone. "I have to thank Dr. Cash for all the knowledge and resources, Pearson for the opportunity and of course, my children for truly teaching me what life is all about."