Academic deans retire from NRCC after 25 years
Jul 11 2013
This is an archived article!
This article was published on Jul 11 2013 and was archived on Jul 12 2014. The information below may be outdated or inaccurate.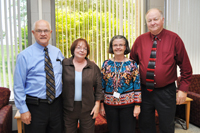 New River Community College recently said farewell to two longtime employees. Both Carol Hurst, dean of the division of arts and sciences, and Dan Lookadoo, dean of the division of business and technologies, have retired.
Hired at about the same time, Hurst and Lookadoo both retire after 25 years of service at NRCC. Both were celebrated at a recent reception, where friends and colleagues alike lauded them for their dedication and leadership.
Hurst, of Floyd, began her time at NRCC as an adjunct instructor teaching English classes. Prior to that, she had been teaching English at Pulaski County High School. After making the jump from NRCC instructor to dean, Hurst found that she really enjoyed the opportunity to work with faculty members. "I really enjoy assisting faculty in creating high quality courses and programs," she says. "I also enjoy helping them get the equipment and materials they need in order to do their jobs well."
In addition to a passion for making sure her faculty members are successful in the classroom, Hurst notes that one of her favorite things about NRCC is the culture. "It's a culture that's centered on supporting people," she says. "Whether we're talking about students, faculty or staff, I really appreciate that." In that same vein, Hurst says the people and the culture are what she'll miss most about the college. But, like many retirees, she says she's also ready for it. "I'm looking forward to being able to relax and set my own schedule," she says.
Lookadoo's path to the dean's office at NRCC was similar in that he started out as an instructor at the college. He taught in the electronics, instrumentation and electricity area. Before coming to NRCC, he served in the U.S. Air Force for 20 years. In his later military years, he was the avionics program superintendent for the Community College of the Air Force.
Lookadoo echoes Hurst's sentiments when it comes to helping NRCC faculty and says he also especially enjoys working with students. "I like to help students figure out what to do, which courses to take and how to get through the maze of education," he says.
His passion for helping students extends back to his days as an instructor and he recalls one student in particular whose story stays with him. Lookadoo met the student while giving a career day presentation at a local middle school. When the student helped him carry his presentation materials out to his car, Lookadoo said he seemed very excited about the electronics, instrumentation and electricity programs. Years later, Lookadoo discovered that the same student was having trouble in high school and worked to make special arrangements for him to attend the NRCC class he was teaching. In the end, the struggling student turned things around and received three degrees from NRCC and was selected as an outstanding student. "It's never too early to plant a seed!" says Lookadoo, with a laugh.
Like Hurst, Lookadoo says that he'll miss the camaraderie of the college's faculty and staff in his retirement. As for what he'll be up to, he says he's leaving that up to his wife of 40 years, Kay. "I'll do whatever Kay wants to do," he says.
Hurst and Lookadoo leave their respective offices in capable hands. Peter Anderson, formerly NRCC's Health Information Technology Education grant coordinator, recently became the new dean of business and technologies. Janice Shelton, NRCC professor of English, will become interim dean of arts and sciences.