Flannel pajama collection leads to NRCC endowed scholarship
Jul 10 2013
This is an archived article!
This article was published on Jul 10 2013 and was archived on Jul 11 2014. The information below may be outdated or inaccurate.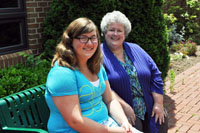 It all started with several years' worth of red flannel pajamas. In perhaps one of the most unique stories behind a New River Community College endowed scholarship, Carol Thomas Hancock explains that her namesake scholarship came about as a result of one too many pairs of the fuzzy red sleepwear.
Her husband, Gary Hancock, had been giving her a pair of red flannel pajamas each year for Christmas since early in their marriage. Finally, about 10 years ago, she told him she'd had enough and asked him to come up with a better idea. "Those PJ's don't wear out," she said. "So I have enough to last me the rest of my life!" The following year for Christmas, instead of pajamas, Hancock found out that her husband had endowed a scholarship in her name at NRCC. The scholarship is awarded annually to a former student of Carol Hancock or a student pursuing elementary education.
Gary Hancock, an attorney for Pulaski law firm Gilmer, Sadler, Ingram, Sutherland and Hutton, has several connections to NRCC and to the Virginia Community College System. He has served on the NRCC Foundation Board of Directors since 1995 and was board president from 2001 to 2004. He was appointed to the State Board for Community Colleges by Governor Mark Warner in 2004, where he served as vice chair and chair before his term concluded in June 2012.
When asked why he chose to endow a scholarship for her at NRCC, Carol Hancock says that her husband was greatly influenced by friend and fellow college supporter, the late J. Robert (Bob) Dobyns. "Bob felt so strongly about the importance of the community college, and how we needed to set an example and help other people make their way," she says. "He influenced Gary to remember that when you help one person, you help everybody."
Carol Hancock is a retired schoolteacher, who spent 40 years in the classroom. Though she began teaching in Prince George County, she spent the majority of her time in the Pulaski County school system - primarily teaching third grade English at Critzer Elementary. But on her road to becoming an educator, teaching English wasn't her first choice. "When I was in elementary school, I thought I wanted to grow up and be a cowgirl like Dale Evans," she says. However, she notes that growing up in the Washington, D.C., suburb of Falls Church made that career choice somewhat difficult. So, she considered being an art teacher. But when she reached sixth grade, she had the opportunity to volunteer reading books to kindergarten and first grade children, which influenced her to pursue English education.
She speaks fondly of students who have received her scholarship in the past and describes having the endowment as "very rewarding." When she runs into former student and scholarship recipient Timothy Farmer, he introduces her to his wife and children as "the woman who allowed me to pursue my dream to become a teacher."
This year's Carol Thomas Hancock Scholarship recipient is Megan Winn, a recent graduate of Pulaski County High School. Winn begins her studies in business management at NRCC this fall. After NRCC, she hopes to go to culinary school and eventually own her own bakery. Winn was one of Hancock's third grade students and remembers her time under Hancock's tutelage fondly. "She's always been my favorite teacher," says Winn with a smile. Among other things, Winn remembers Hancock's sense of humor - which came out in unusual ways. "She used to draw funny pictures on my hall passes any time I needed to go somewhere," Winn says.
Despite the many years and many classes that have passed since Winn was in third grade, Hancock is quick to recall Winn as an excellent student, both academically and socially. "Megan was always such a great student and a crusader for the underdog," says Hancock. "If there was a student with a problem, or who needed some cheering up, Megan would come find me and say 'this person's having a rough day'."
Hancock and Winn are just two of the individu