NRCC welcomes new dean of business and technologies
Jul 03 2013
This is an archived article!
This article was published on Jul 03 2013 and was archived on Jul 04 2014. The information below may be outdated or inaccurate.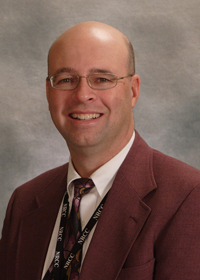 New River Community College recently welcomed a new academic dean to the college. Peter Anderson, of Blacksburg, accepted the position of dean of the division of business and technologies last week. Current dean, Dan Lookadoo, has retired after nearly 25 years at NRCC.
Anderson has served as the coordinator of the Health Information Technology Education (HITE) grant at NRCC since November of 2010. Previously, he served as an adjunct instructor in the electronics, instrumentation and electrical area at the college.
Prior to becoming the HITE grant coordinator, Anderson spent 18 years working with the Pulaski County School System. Most recently, he was the career and technical education director for the system. He also served as an assistant principal at Pulaski County High School and at Dublin Middle School and as a building trades instructor during his tenure.
Anderson says he's excited about his new position. "I'm looking forward to rolling up my sleeves and working together with the NRCC faculty to help them be successful," he says.