Education, training on the "fast track" at NRCC
Jun 14 2013
This is an archived article!
This article was published on Jun 14 2013 and was archived on Jun 15 2014. The information below may be outdated or inaccurate.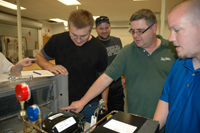 On a weekday afternoon in New River Community College's student lounge, a group of students clusters around three tables enjoying their lunch. But this isn't just any lunch break - it's a lesson. These students are part of a special fast-track training group in heating, ventilation and air conditioning (HVAC) run through the PluggedInVA program. "Lunch and a Lesson" is one of several components of the 12-week program.
The students in the HVAC cohort come from diverse backgrounds - some are dislocated workers, some are currently working but looking to change fields and some are recent high-school graduates. They come from as close as Montgomery and Pulaski counties and as far away as West Virginia and North Carolina.
The statewide PluggedInVA program targets adult learners and offers them a contextualized general education program as well as industry-specific training through college courses.
Through the program, students develop the necessary skills to obtain an entry-level position in their target industry. The training programs are condensed or "fast-tracked" in order to help individuals, especially dislocated workers, get into the workforce as quickly as possible.
But just because the program is fast doesn't mean it skimps on coursework or training. The program is divided into three basic components: the first component focuses on raising the student's basic skill levels in areas like reading, writing and math. The second component is composed of the field-specific college courses. The third component involves the class capstone project, job placement and entrepreneurship instruction.
To fit all the program's required elements into 12 weeks, the students attend classes for several hours Monday through Friday. Program coordinator Tracy Brockenbrough says that the class hours are designed to mirror working hours such as a traditional 9 a.m. to 5 p.m. shift or a 3 to 11 p.m. second shift.
The students say that spending so much time in class is both beneficial and difficult. Several students say the compressed time frame means that it can be hard to retain the enormous volume of information gained in a single session, but others say that with less time between tests, concepts can actually be easier to remember. "It is challenging," says student Ed Slaughter. "But our teachers are great and they keep class very interactive."
Student Jeff Anderson agrees, saying "They keep you engaged - you can't just sit there, you have to follow along and pay attention."One student, Curtis Spurlock, thinks that the fast pace of the program also helps connect it to today's workplaces. "I'd recommend this program," he says. "After all, so many companies today are built on speed."
Despite the wide range of ages, hometowns and life circumstances that make up this cohort, the students have developed a close and supportive group. During their "Lunch and a Lesson," sessions, they often discuss lessons from Stephen Covey's personal development book "The 7 Habits of Highly Effective People." During one lesson, the students were asked about the kinds of changes they had seen in themselves throughout the course of the program. Several students responded with changes they had made, but also pointed out changes in their classmates.
This closeness will come in handy as they work on their capstone project, which they will do as a group. Each PluggedInVA cohort gets to decide what kind of project they would like to do. This group has decided to work with certified technicians to offer free basic HVAC repairs to senior citizens and low-income individuals.
After discussing the many fun and challenging aspects of their program, the sentiment that seems to be held by all the students is that while the time and energy required is at present a great sacrifice, it will be worth it in the end. Several entrepreneurially-minded students hope to start their own businesses when they complete the program.
In addition to HVAC, tw