Sixth grader's drawing turns into college student's metalwork project
Jun 03 2013
This is an archived article!
This article was published on Jun 03 2013 and was archived on Jun 04 2014. The information below may be outdated or inaccurate.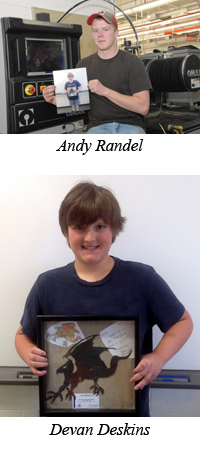 What started out as a routine school visit to New River Community College has turned into a thrilling surprise for one 11-year old Carroll County student. New River Community College freshman Andy Randel of Pearisburg, was given the opportunity to create the surprise as his final class project in a Computer Numerical Control (CNC) class.
Devan Deskins toured the Dublin campus in November along with other sixth and seventh graders from St. Paul School in Carroll County. When he saw the Omax abrasive waterjet machine cutting designs through sheet metal, Deskins had an idea; but, he didn't get a chance to present it during the tour.
Deskins is a gifted artist according to his teachers at St. Paul. From his experiences during the tour at New River, he imagined his drawings being fashioned into metal with the technology available at NRCC. He told his teacher, Melina Easter, about his idea and she made it her mission to create a surprise for her student. Deskins is the son of Patricia Cutshall of Lambsburg.
Easter contacted John Somervell, assistant professor of machine technology, and asked if he could fulfill the wish of young Deskins. In turn, Somervell gave the option to his students for one of them to take on the project. Last month Deskins was presented with a framed gift of his original drawing and the steel cut version created by Andy Randel.
Randel, who is in his first year of machine technology classes at New River, said after the original artwork was scanned, it took about two weeks for him to reverse engineer and refine the detail of the dragon using the CNC software. Once that work was complete, it only took about 10 minutes for the machine to do the detailed cut into a 3/16 inch thick piece of steel sheeting.
In a note to Deskins along with the framed art, Somervell encouraged him to continue drawing and also encouraged him in another field, "Become a machinist!"
CUTLINE (Andy Randel): NRCC student Andy Randel displays the photo of the sixth grader and his finished cut metal work at the Omax abrasive waterjet machine in the Machine Technology department at New River Community College. (NRCC photo)
CUTLINE (Devan Deskins): Devan Deskins, a sixth grader at St. Paul School in Carroll County, with his framed surprise coordinated by his teacher, Melina Easter. (Photo by Movita Utt)