NRCC alum strives to serve others
Apr 24 2013
This is an archived article!
This article was published on Apr 24 2013 and was archived on Apr 25 2014. The information below may be outdated or inaccurate.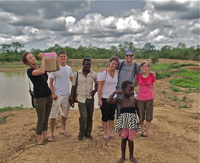 If you ask New River Community College alum Brittni Woolwine what led her to study nutrition and psychology at Virginia Tech, she'll start by saying "it's a long story." After high school, there was art school -- but that didn't work out. Then she was off to massage school to learn a trade that would eventually help her pay her way through school. While studying massage, Woolwine developed an interest in natural healing methods. "Food is one of the easiest ways to heal your body," she says. "That's why I'm studying nutrition - so I can help people learn to eat right."
After massage school, Woolwine still wasn't exactly sure what she wanted to do with her newfound interest. She was also paying for her own education, so she was on the hunt for an affordable option that would allow her to take a variety of courses. "And that's how I ended up at NRCC," she says. She began classes at NRCC in 2009.
Staying involved is something close to Woolwine's heart and she lauds NRCC for offering opportunities to stay engaged in and out of the classroom. "I loved it, the experience was really great for me," says Woolwine. "Being involved at NRCC let me know that I could be something bigger within my academic community and that continued to encourage me when I got to Virginia Tech." She transferred to Virginia Tech in 2011.
While at NRCC, she served as historian for the Phi Theta Kappa honor society and was involved in the Student Government Association. She also offers high praise for NRCC faculty, "Some of my best professors have been from New River."
In addition to work and school, Woolwine has a particular passion for volunteering. Last year, she began working with Community Water Solutions, a non-profit group that partners with rural communities in developing countries to establish sustainable water treatment businesses. "I really like the way Community Water Solutions program is set up," she says. "It's sustainable - the people who run the water treatment facilities can get everything they need from the communities that they're in." Her work with CWS took her to several villages in Ghana where she helped install water treatment systems, educate local community members about the dangers of dirty water and teach local women from each village to run the water treatment facilities as their own small businesses.
She plans to continue working with CWS in the future and had another Ghana trip scheduled this summer; but another unique opportunity came knocking. Woolwine will instead spend her summer studying Chinese medicine in Beijing, China.
Her work with CWS, she says, has greatly influenced the path she'd like to take once she finishes her bachelor's degree in nutrition and psychology. "Originally, I thought I'd like to work with people with eating disorders," she says. "But since I've come back from my work with CWS, I decided I'd really like to work in community nutrition, maybe with low-income populations or communities elsewhere in the world."