Two NRCC students honored at VCCS ceremony in Richmond
Dec 07 2012
This is an archived article!
This article was published on Dec 07 2012 and was archived on Dec 08 2013. The information below may be outdated or inaccurate.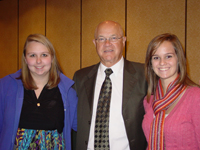 Two New River Community College students were among the 44 honored by the Virginia Community College System at a recent ceremony in Richmond. Savanna Nicole Bane was recognized as this year's LewisGale and Carilion Hospitals Commonwealth Legacy Scholar at NRCC and Morgan Hudson was recognized for receiving the Gary Hancock Godwin Society Scholarship.
Bane is a 2012 graduate of Giles High School the daughter of Tim and Judy Bane of Pearisburg. While in high school, she participated in numerous activities including Family, Career and Community Leaders of America (FCCLA), Health Occupation Students of America (HOSA) and the Student Organization for Developing Attitudes (SODA), all while maintaining excellent grades. At NRCC, she is studying nursing and plans to go on for her bachelor's degree in nursing upon graduation. The Commonwealth Legacy Scholarship program is sponsored by the Virginia Community College System (VCCS). One recent high school graduate is chosen by each of the 23 community colleges and one is selected by the Virginia Foundation for Community College Education to receive a legacy scholarship award. Each scholarship is named for a philanthropy leader who has supported Virginia's Community Colleges.
Hudson's award is part of a new scholarship program, The Godwin Society Scholarship, which honors former members of the State Board for Community Colleges. Both New River Community College and Central Virginia Community College awarded scholarships in the honor of former State Board members this year, Hudson's in honor of Gary Hancock. Hancock, of Pulaski, recently completed his tenure as state board chair.
Hudson, a 2012 graduate of Pulaski County High School, is the daughter of Jo Ellen Hudson, of Dublin. In high school, she was involved in DECA (an association of marketing students) and competed at both the district and state levels. She was also active in her community, helping to raise money for several local charitable causes. At NRCC, Hudson is studying marketing and would like to become a town or county planner in the future.
Dr. Glenn DuBois, chancellor of the Virginia Community College System, in commending the scholars, said "I believe that all young people should be encouraged to go to college. Our workforce, our economy, and our quality of life depend on it."