NRCC student speaks at VCCS state board meeting
Dec 04 2012
This is an archived article!
This article was published on Dec 04 2012 and was archived on Dec 05 2013. The information below may be outdated or inaccurate.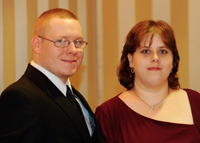 Ask a Virginia community college student about the impact their local college and its programs have had on his or her life and the answer will often go far beyond just an academic degree. Many students credit the wide-range of flexible education options and the personal relationships they develop with college faculty and staff with making a profound difference in their lives - including 19-year-old New River Community College student, Kenneth Sturdivant.
Sturdivant, of Giles, had the opportunity to address the Virginia Community College System (VCCS) board during a recent meeting and told them his story -- from a difficult upbringing and a seemingly impossible dream of graduating high school come true, all the way to becoming a student at NRCC and marrying his wife and fellow NRCC student, Rose.
He described growing up in a "rough" family, bouncing between his father's home and his grandparent's home along with his three younger brothers. By age 13, he was in foster care, but still moving around a lot. He was also running away, picking fights at school and rebelling any way he knew how. Later, he was placed in a center for troubled youth, where he enrolled in an ROTC-style program. He credits the program for teaching him leadership skills and responsibility and piquing his interesting in the military.
However, life dealt the newly dedicated Sturdivant a difficult hand when an Army recruiter told him that he couldn't join without a high school diploma - something that had fallen by the wayside during Sturdivant's difficult teen years. He left his meeting with the Army recruiter disappointed, but soon connected with NRCC staff members Lois Davis, Great Expectations program coach, and Jenny Bolte, director of transitional programs. Davis encouraged Sturdivant to return to the Great Expectations program, which he'd been in during his high school years, to help him along his path to success. The program offers educational and supportive services to youth in foster care and helps them close educational gaps.
Bolte helped him get involved in NRCC's Middle College program, which took things a step further and helped Sturdivant earn a GED diploma and transition into college at NRCC. Though challenging, he has plenty of positive things to say about the Middle College and Great Expectations programs. "Jenny [Bolte] treated me like an adult," he says. "She let me decide my own path, which made me feel like I was in control of my own education and life instead of being told what to do." Bolte is complimentary of Sturdivant as well, saying that "once he made up his mind that he wanted to change his life, he worked very hard to make that happen."
He continued working with Middle College instructors and Great Expectations coaches and was able to secure a job and pass his GED test. In May, he married Rose, and they both began taking college courses at NRCC. Sturdivant is studying police science and his wife is studying early childhood development.
Sturdivant is a true NRCC success story, having taken advantage of several programs made possible through the VCCS and NRCC designed to help individuals succeed via a sometimes less "traditional" path.