NRCC to expand Advanced Learners Program
Nov 15 2012
This is an archived article!
This article was published on Nov 15 2012 and was archived on Nov 16 2013. The information below may be outdated or inaccurate.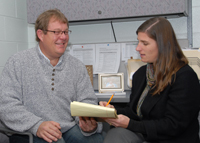 New River Community College kicked off its new Advanced Learners Program (ALP) this fall with a pilot course in race and ethnicity taught by sociology professor Dr. Heidi Morehead.
The program is based on a vision of the college's president Dr. Jack Lewis to help students who desire to structure their academic work differently. Participating faculty take standard academic classes and design parallel course content for high-achieving students that is broader in scope and deeper in examination than standard courses.
Advanced Learners Program director Dr. Paige Cash notes that there are many benefits for students in the program. "The students learn how to be curious, engage themselves in the course topics, learn to love research and learn to ask questions, rather than just seek the answers to questions," she says.
Cash describes courses in the program as being "project-driven" and well suited to students who favor a learning style not based on the standard "test and quiz" format. She also notes that ALP courses offer lots of opportunities for group work, but because of the program's heavy use of the internet and related technologies, group meetings can take place via online discussion boards and web cams - reducing the need for students to spend extra time on campus. Students can also expect more interaction with their faculty members, an increased emphasis on student sharing of personal perspectives and knowledge, and an emphasis on research, writing and critical analysis.
Morehead's first ALP student, Bently Wood, says that the change in academic structure was exactly what he was looking for. After finishing classes at NRCC and going on for a four year degree, Wood wants to tackle graduate school and eventually become a sociology researcher.
When Morehead first told Wood about the ALP class she had decided to offer in race and ethnicity, Wood says "my expectation of 'research' was 'write a paper,' because that's what I knew research to be." But he soon discovered that the program would offer him much more than a chance to write more papers. "I really get to grasp the concepts of what a researcher does and begin to understand the methods used by grad students and professional researchers."
Morehead notes that digging into graduate-level research methods wasn't on her original syllabus, but that the project evolved later to include that component. Wood says that type of flexibility is one of the things he really likes about the Advanced Leaners Program. "That's the unique thing about this program," he says. "It's not scripted, it's allowed to be organic so that it can become whatever the individual wants it to be."
The benefits of the Advanced Leaner's Program aren't just limited to the students. Morehead is quick to note that she's enjoying the experience as well. "It's really fun," she says. "It's allowed me to be more creative with what I'm offering."
Morehead says that from a faculty perspective, teaching an ALP course pushed her to "step outside the box" and try new ways of presenting material. She also says it changes the student-teacher relationship for the better. "It makes it much more reciprocal," she says. "It's not just me teaching them, it puts me back in the learner's seat."
Four ALP courses will be offered for the Spring 2013 semester - Math for the Liberal Arts (Math 151) with Caroline Abbott, Introduction to Computer Applications and Concepts (ITE 115) with Dr. Rukmini Sriranganathan, Race and Ethnicity (SOC 266) with Dr. Heidi Morehead and Music Appreciation I (MUS 121) with Louise Billaud.
NRCC students interested in applying for the Advanced Learners Program may contact Dr. Paige Cash at 674-3600, ext. 4446, or visit her office in Godbey 47 to pick up an application.