NRCC offers students "World Languages Institute"
Jul 23 2012
This is an archived article!
This article was published on Jul 23 2012 and was archived on Jul 24 2013. The information below may be outdated or inaccurate.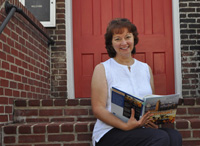 Available, affordable and practical - all words Nancy Brower of Radford uses to describe her experience taking an online language course through New River Community College (NRCC). Brower, an educator by trade, began taking classes at NRCC to fulfill continuing education requirements for her teaching license. She's taken a variety of courses that integrate with her special education and allied health education background and says that "with NRCC in conjunction with the VCCS, you just have so many classes available to you - it's really wonderful."
Last semester Brower decided to branch out and take a course in German 101 through the college's new World Languages Institute (WLI).
The institute, coordinated by the college's Office of Workforce Development, offers three options for studying a variety of languages that appeal to those enrolling as NRCC students, those seeking non-credit language study and those seeking customized language training in business, industry and non-profit organizations. The institute's for-credit online language courses, supported by a special arrangement with Northern Virginia Community College (NOVA), began in January 2012 with offerings such as Arabic, Chinese, French, German, Japanese and Russian.
It was the German class that really drew Brower in because of her family's German heritage. Both her parents are from Germany and a recent overseas visit from some cousins spurred her desire to learn to communicate in the language. "I knew a little bit about the language, but not nearly enough to converse," says Brower. "Now, my goal is to go to Germany and pay them a visit!"
Brower also notes that the online format is great for her busy schedule, which includes many hours spent volunteering at her local church. "I'm always looking for online classes because for me, with my schedule, it helps tremendously to be able to work at my own pace," she says.
And Brower isn't finished with her language study yet. She often carries her textbook with her to practice what she's learned is already thinking of signing up for the next section of the institute's German language offerings this fall.