NRCC Workforce Development Spotlight: Dr. Jeanne Symanoskie, corporate trainer
Jun 12 2012
This is an archived article!
This article was published on Jun 12 2012 and was archived on Jun 13 2013. The information below may be outdated or inaccurate.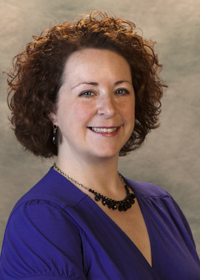 Computers, tablets, software and apps - these are all things designed to make us more productive at work. But for many, there's that inescapable feeling that all this "stuff" just makes conducting business even more time consuming and frustrating.
That's where New River Community College (NRCC) corporate trainer Dr. Jeanne Symanoskie comes in. Symanoskie develops training classes and workshops that help business owners and their employees apply productivity tools and learn to work smarter, not harder.
She teaches classes in a variety of subject areas including several in Microsoft Office products, customizing marketing materials and social media applications such as LinkedIn for business. Symanoskie also takes time to read and research the latest technology, which keeps her on top of new apps and programs and serves as inspiration for new classes.
"My objective is to teach tips and tricks that will help course participants run their businesses more efficiently, use technology more wisely and feel more comfortable using their skills so they can spend less time, but get better results," she says.
Symanoskie, a former high school business teacher, came to NRCC looking to continue teaching business and technology related material and was offered the opportunity to branch out and work with the college's Workforce Development Office. "I've always liked the technology aspect of teaching" she says. "What I'm teaching now is a little different from what I've done in the past, but I get to learn lots of new things to add to my 'bag of tricks.'"
In addition to a doctorate in education from The University of Georgia and 10 years of teaching experience, Symanoskie also draws material for her classes and workshops from her time as a small business owner. She and her husband owned the Blacksburg restaurant Log Cabin BBQ for three years. "There were so many things that I wish I had help with while I was running the business, but I just didn't have time to sit down and learn them by myself," she says. "So when I came to NRCC, I felt like my experiences could really help me contribute to the business community."
But Symanoskie is going beyond just her own experiences - she's keeping her eyes, ears and inbox open for suggestions from other area business owners on training they'd like to participate in. "The issues I had as a business owner are, of course, not the same as what other business owners have, so I look forward to their input," she says.
As much as one can see the excitement on her face when she discovers a new iPad app or a new trick in a Microsoft Office program, Symanoskie says her favorite part of the training experience is the "aha" moments had by her students. "Showing someone how to use technology to better suit their needs so that they can work smarter, not harder - that's what I really enjoy."
She hopes to continue to provide plenty of "aha" moments in her upcoming courses, which include topics like Microsoft OneNote as a meeting tool, customizing Microsoft Outlook, team building, a broader view of LinkedIn and iPad training.
Contact the NRCC Office of Workforce Development for training opportunities and customized business solutions.