NRCC student's machining project combines superhero theme with advanced manufacturing technology
May 15 2012
This is an archived article!
This article was published on May 15 2012 and was archived on May 16 2013. The information below may be outdated or inaccurate.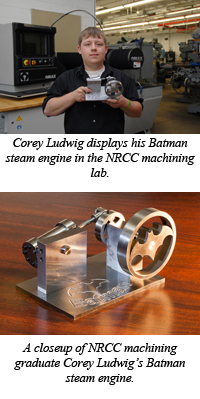 What do you get when you combine a superhero and advanced manufacturing technology? New River Community College student Corey Ludwig got a fully functioning miniature steam engine and an "A" grade for a final project in his Precision Machining Techniques class.
Ludwig chose Batman as the theme of his project and used high-tech equipment in the college's machine technology lab to create it.
"He scanned, scaled and converted the artwork into a vector tool path using OMAX software on the Omax 2626 Abrasive Water Jet Machining Center. He then cut out the Batman components from one-half and three-quarter inch thick steel with ultra high water pressure in a matter of just a few minutes," says John Somervell, assistant professor of machine shop at NRCC. "Then he used the combination of the Feature CAM (Computer-Aided Manufacturing) software to generate the tool path and a 3D image to engrave the logo and letters into the base using a high speed CNC HAAS TM-1P Vertical Machining Center."
Though the technology allowed Ludwig to cut the precise logo in just a few minutes, the whole project took him three to four weeks to complete. "I spent the whole last week just grinding and polishing it," Ludwig says.
He had a blueprint for the steam engine, but he had to alter the flywheel to be able to fit the Batman symbol inside it. "I wanted to do something different," he says. But, aside from the creative look of the engine, the finished piece still had to work and have precise tolerances for his professor to grade. Ludwig says when an air hose is placed in the block, air shoots through the cylinder and makes the flywheel turn.
Ludwig graduated from New River Community College on May 11 with an associate degree in Machine Technology. His plans include transferring to a four-year college to study mechanical engineering.