NRCC Alumni Update: James Derflinger
Mar 19 2012
This is an archived article!
This article was published on Mar 19 2012 and was archived on Mar 20 2013. The information below may be outdated or inaccurate.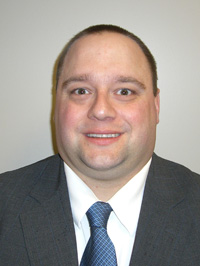 "How did you get where you are today?" Ask a New River Community College graduate that question and you'll find many interesting facts about their individual career paths. It's especially interesting when the answer to that question comes from someone like 2001 web and graphic design graduate James Derflinger, whose complex path has taken him someplace he never dreamed he'd be.
After graduating from NRCC, the Pulaski native headed north to Albany, New York in pursuit of a job. He worked in Albany until he lost his job due to the reorganization of his company after it lost employees in the World Trade Center attacks in September of 2001.
Faced with a new challenge, he headed home to the New River Valley and began attending Radford University, eventually receiving a bachelor's degree in business management. While studying at RU, Derflinger also took several marketing and internet marketing courses, which helped point him in the direction of his next career move - to Nashville, Tenn., where he spent the next several years running an internet marketing and web design company.
During that time, Derflinger decided enroll in classes with the University of Phoenix, where he received his master's degree in business administration.
After gaining a graduate degree and significant marketing and management experience, Derflinger began teaching adjunct courses in marketing, web design and business at Daymar Institute in Nashville in 2009.
Now, Derflinger is the head of Daymar's business department.
"I never thought I'd end up in education," he says. But this now dedicated educator also says experiences at NRCC have impacted his classroom style and the way he approaches education. "Some of my very best teachers were at NRCC," he says. "They always had so much passion for what they were teaching." Derflinger also says that his NRCC instructors inspired him to be "more personal" in the classroom, working to understand students' different learning styles and offering as much one-on-one help as he can. So what's next for this successful educator? A Ph.D. for starters, says Derflinger. He's looking into marketing programs on the doctoral level. After that, his future goal is music to his former NRCC instructors' ears: "I want to continue teaching - actually, I'd like to teach at a community college."