NRCC to hold Motion Capture Suite demonstration at Christiansburg mall site
Dec 05 2011
This is an archived article!
This article was published on Dec 05 2011 and was archived on Dec 06 2012. The information below may be outdated or inaccurate.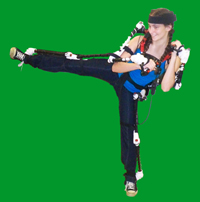 3D films are the latest thing in the motion picture industry and they often leave moviegoers wondering "how do they do that?" New River Community College (NRCC) game technology and animation students and their instructors will be holding a demonstration of 3D motion capture ("mo-cap") technology at the college's New River Valley Mall site in Christiansburg on Saturday, December 17, from 2 to 7 p.m.
The event will showcase motion capture technology of the same type used to make films like Avatar and Rise of the Planet of the Apes. Also featured will be a special demonstration showing 3D characters inside a computer-generated virtual mall.
The motion capture suite is relatively new to NRCC, with the college receiving it during the summer of 2011. Students and instructors have been working with the technology since then, but it will be formally integrated into a new 3D computer generated animation class in spring 2012.
Jeff Levy, drafting instructor and head of NRCC's computer aided design (CAD) program explains that the suite is used in conjunction with several very powerful pieces of software. "3D animated characters have a skeleton inside them that matches the motion capture suite," says Levy. "With the aid of green-screen technology, students will get to become a character in a virtual environment."
But turning a real, live college student into an animated character requires more than just a green screen and some software. A key component in the process is the futuristic mo-cap suit. Students will be wearing the suit during the December 17 demonstration to showcase the process by which their physical movements are captured and transferred to an animated character on a computer.
The demonstration will take place at the food court area entrance to the college's NRV mall site in Christiansburg and is open to the public.