NRCC nursing student receives scholarship
Nov 07 2011
This is an archived article!
This article was published on Nov 07 2011 and was archived on Nov 08 2012. The information below may be outdated or inaccurate.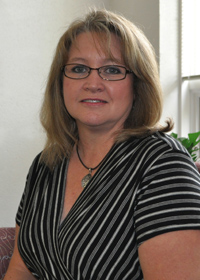 "I want to help people." It's almost universally the answer to the question "why do you want to become a nurse?" Such is the case for New River Community College (NRCC) nursing student Brenda Epperly, who recently received a scholarship to help her do just that.
Epperly grew up on a dairy farm in Floyd County and throughout high school, says she always dreamed of becoming a nurse. But life took her a bit by surprise when she met her husband, got married and had children. From there, Epperly worked at a local lumber company for years. But when the company closed, Epperly realized it was time to pursue her dream. With her husband and children behind her, she applied and was accepted to the Practical Nursing program at NRCC.
Epperly completed her Practical Nursing degree and became a Licensed Practical Nurse in August 2010. Now, she is part of NRCC's associate degree nursing program studying to become a Registered Nurse (RN). This year, she received a $2,000 Mary Marshall Nursing scholarship from the Virginia Department of Health and the Board of Nursing that will help support her education.
Epperly was, to put it mildly, very excited to receive the award. "I felt like I'd won the lottery!" she says. "It's really great as a full-time student, who isn't working, to just be able to focus on my schoolwork and not have to worry so much about the financial part."
The Mary Marshall scholarship does require something in return of the future nurses it supports. Once Epperly completes her studies at NRCC and receives her registered nursing license, she will be required to work, full-time, as a nurse in the state of Virginia for 20 months (one month for each $100 of scholarship money she received).
But Epperly doesn't mind the work requirement, she says she's excited to graduate and get back into the hands-on nursing world. As an LPN, she worked in geriatric care, but says as an RN she'd like to work in a hospital setting as a medical-surgical nurse or in orthopedic care. As for staying in Virginia? "I love the New River Valley," says Epperly. "I can't see myself going anywhere - I want to be here right through retirement!"
Through all her studies, Epperly notes that her family has been "very, very supportive." She has two grown children and a husband and says that they've "had to deal with me not being available as much for the day-to-day activities, but they're really proud of me and have stood behind me the whole way."
Epperly is set to graduate in May 2012. After that, she'll take her RN licensing exam and work to provide, as she puts it: "that helping hand, that kind touch that nurses are able to give."