NRCC welcomes new art instructor
Oct 06 2011
This is an archived article!
This article was published on Oct 06 2011 and was archived on Oct 07 2012. The information below may be outdated or inaccurate.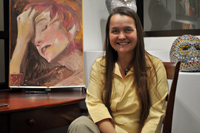 Fall semester in New River Community College's art gallery has begun with a unique show. There are pieces of stained glass, paintings, photographs and a colorfully tiled Kermit the frog smiling from the face of a large concrete block. A quick chat with NRCC's new art instructor, Tammy Parks, reveals that she's the artist behind each of the creative works. And, Kermit isn't just a block of concrete - it's a 1980's television that belongs to an "outdoor living room," the rest of which resides in her yard.
Parks was born in Wythe County, but her family moved to Pulaski when she was in elementary school. She went on to attend Pulaski County High School, where she would later teach. College took her farther afield, with undergraduate studies in art and Spanish at Emory and Henry College and then off to the University of Southern Mississippi to pursue a Master's degree in Spanish. However, after completing her degree and spending some time teaching Spanish, Parks realized that art was her true passion so she headed to Goddard College in Plainfield, Vermont, where she received a master of fine arts degree. Currently, she is studying at the Institute for the Doctoral Studies in the Visual Arts to obtain a Ph.D. in art.
Through her past work and current doctoral studies, Parks has had the opportunity to travel - a lot. When asked to count the number of countries she's visited, she says she comes up with about17. "I'm going to die poor, but happy and well traveled," she jokes.
As an artist, her favorite medium is stained glass, which she calls "painting with light." But as a teacher, she enjoys getting to teach many different subjects including digital photography, watercolor painting, drawing and art appreciation. "The variety is one of the things I really like about NRCC's art program - I get to be involved in a little bit of everything."
Among her goals for the college's art program, Parks plans to fill the art gallery and the college with student and local art. "We have some really talented folks around here - artists, photographers, quilters - I want people to see those original works."
Even after spending a full day teaching and carefully hanging and arranging art in the gallery, Parks' energy, passion and enthusiasm for her subject are readily apparent as she discusses projects she has planned for upcoming classes.
Next semester? "Totem poles!" she says excitedly. "They're going to be so cool!"
Parks' work will be on display in the NRCC art gallery in Godbey Hall room 143 through mid-November.