NRCC graduate exemplifies perseverance
Jul 27 2011
This is an archived article!
This article was published on Jul 27 2011 and was archived on Jul 28 2012. The information below may be outdated or inaccurate.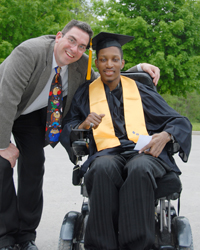 Preparing for college is hard enough with decisions to make, forms to fill out and events to attend, but it's even harder when you have to consider things like the placement of your classrooms and what kind of assistance you'll need to take notes and complete each assignment.
But New River Community College graduate Patrick Day isn't the kind of student who lets things get in his way. In the fall of 2007, when Day was a 16-year-old student athlete at Blacksburg High School, he suffered a stroke that damaged his spinal cord. Doctors were unable to explain why the stroke occurred and even after weeks of rehabilitation, he was still left with no feeling in his extremities and paralyzed from the neck down.
Day returned to high school in the winter of 2007, worked hard and received his diploma in June 2009. Now, Day has reached another major milestone - he graduated from NRCC with an associate degree in general studies in May. With one college degree in hand, Patrick Day has a rigorous plan for his future and is dedicated to being successful.
Day confesses he wasn't always so devoted to his academics, focusing more on his athletic prowess during his high school years. However, after the stroke, Day knew he needed to change that. "While I never got really bad grades in high school, academics weren't really my focus," he says. "But my injury took the option of using sports to get into college away from me."
Hard work at NRCC has brought him excellent grades and induction into the college's honor society, Phi Theta Kappa. "That was a major achievement for me," he says.
His dedication and determination are also praised by those who know him, including the counselors in NRCC's Center for Disabilities who provide services to Day and other students to help them be successful in the classroom. Day says that since his injury, he's placed a lot of emphasis on self-advocating, a fact confirmed by counselor Ellen Bielema.
"He's a stand-out student who's very motivated and driven," says Bielema. "He's persistent and he really seeks independence."
Bielema speaks with a smile about Day and his accomplishments, and notes with pride that she's seen him grow a lot during his time at NRCC.
"While we're going to miss him, we're all really excited and proud to see him transfer to Virginia Tech," she says.
Day's higher education journey will continue this fall, when he starts school at Virginia Tech, studying agriculture and applied economics. He's also interested in entrepreneurship. But Day's drive doesn't stop there.
What's next after the rigors of Virginia Tech? Day has sites set high - on law school.