Students gain real-world experience in NRCC game design program
Jul 25 2011
This is an archived article!
This article was published on Jul 25 2011 and was archived on Jul 26 2012. The information below may be outdated or inaccurate.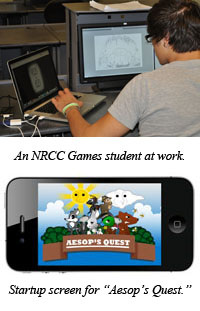 Students in the New River Community College game design associate degree program not only learn fundamental technology skills to pursue careers in the field, they also gain real-world experience.
NRCC's game design program began in 2006 and was the first degree program of its kind in the Commonwealth of Virginia. The program allows for direct transfer into Radford University's Computer Science and Information Science degree programs and has fostered such projects as the "NRCC Games" team.
The NRCC Games team is part of the grant-funded iLearn project and works to create educational games for iPods, iPads and iPhones based on Virginia's Standards of Learning. The eight games currently available in the Apple App store have been downloaded over 54,000 times to date. Additionally, four language games in the "Luna and Leo wizard" series are being used for English as a second language instruction in South Korea, Singapore, Saudi Arabia, the Philippines and Mexico.
The team's most recent game, "Aesop's Quest," was released last month. The educational objective for the game is reading comprehension and is aligned to several Virginia Standards of Learning objectives for reading. Other games that have been updated in the last several weeks include Same Meaning Magic (Synonyms), Grammar Dragon, Opposite Ocean (Antonyms), and Same Sound Spell Bound (Homonyms).
"This team of students has done a fantastic job of creating these educational games from start to finish. The team learned many new animation effects, programming and physics engines, as well as narration with the development of the Aesop's Quest game. The entire team collaborates on all aspects of the games so that each one contains ideas from every team member," says Carlotta Eaton, NRCC professor of information technology and head of game technology programs.
More information about game design and other NRCC information technology programs may be found on the department's website at www.nr.edu/it .Fall class registration is going on now and classes begin Monday, August 22. To see the fall semester class schedule, visit www.nr.edu/schedule .