NRCC retiree takes state pageant crown
Jul 05 2011
This is an archived article!
This article was published on Jul 05 2011 and was archived on Jul 06 2012. The information below may be outdated or inaccurate.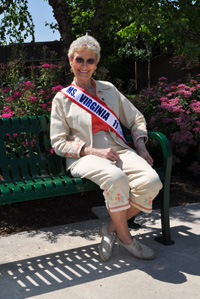 Were it not for the wisdom in her speech, a long list of life experiences and a little help from a motorized scooter, it would be difficult to guess that energetic Louise Wade is 75 years old. Wade, a retired New River Community College employee, was recently crowned Ms. Virginia Senior America at a ceremony in Alexandria.
While at NRCC, Wade worked with the Center for Disabilities - in particular, the Learning Enrichment and Achievement Program (LEAP). The program assists students with accommodations including providing test-taking assistance, note takers and tutors. Wade's good friend, traveling companion and impromptu hair and makeup artist Jeananne Dixon currently coordinates the Center.
As Wade is quick to note, Ms. Senior America is "far more than just a beauty pageant." She describes it as an overwhelmingly positive experience and calls it a "sisterhood." A sisterhood she might never have joined had she not been watching an episode of the "Today Show" where the Ms. Senior America pageant was featured. She then visited the pageant's website and contacted state pageant director Annmarie Pittman for an application. There were meetings, rehearsals and finally, a sash and sparkling tiara for Virginia's new queen.
Wade says she looks at the pageant as an opportunity to share the message of her growing ministry "Melody's Gifts Gives Back." The ministry is named for her daughter Melody, who was born in 1962 with brain damage. The ministry focuses on drawing attention to the needs of those with special needs - a cause to which Wade has dedicated most of her life.
Her years of caring for her daughter, teaching special needs individuals, charitable works and teaching at several colleges have also spawned a book: "Melody's Gifts: An Inspirational Story of A Family's Determination That Neither Cerebral Palsy Nor Mental Retardation Would Silence Melody's Song," which she wrote along with Pulaski resident Sheila Nelson. The book chronicles Wade's journey not only to care for Melody, but also to enhance her daughter's quality of life. Additionally, the book follows Wade through her personal journey to teach profoundly brain injured students both in the classroom and through camps for the developmentally disabled such as Minnesota's Camp Winnebago and Camp Jaycee.
The proceeds from the sale of the book have helped Wade purchase rhythm band instruments for special needs campers and assistive technologies for a facility serving special needs citizens. Those purchases and Wade's continuing service in conjunction with the book also helped win her the Ms. Virginia Senior America Community Service award.
The book also served as part of Wade's "talent" in the Ms. Virginia Senior America pageant. Followed by a presentation on the book, she sang the show tune "Happy Talk," from musical "South Pacific."
Wade's win at Ms. Virginia Senior America isn't the first senior pageant honor to come to NRCC. NRCC retirees Dotty Talbott and Dr. Mary Pat Hall each participated in the Miss Senior Citizen pageant. Talbott took the state title in that pageant in 1991 and Hall in 1999. Talbott went on to win the title of Miss National Senior Citizen.
Wade will represent Virginia in the Ms. Senior America national pageant this October at Harrah's Resort and Casino in Atlantic City, N.J. She currently resides in Dublin with her husband, Jack.
The Ms. Senior America pageant is a product of the Senior America, Inc. organization, which has been holding the event since 1980. The pageant is a "search for the gracious lady who best exemplifies the dignity, maturity and inner beauty of all senior Americans." To participate, contestants must be at least 60 years old, reaching what the organization calls "the age of grace." Much like other pageants, the path to Ms. Senior America begins at the state level. States hold individual competitions and each state's queen continues on to the Ms. Senior America national pageant.
Those interest