Big Country and Whitetop Mountain Bands to perform at NRCC 20th Anniversary Jamboree
Dec 01 2010
This is an archived article!
This article was published on Dec 01 2010 and was archived on Dec 02 2011. The information below may be outdated or inaccurate.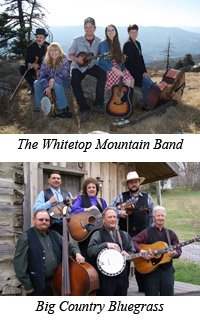 Big Country Bluegrass and the Whitetop Mountain Band will perform at New River Community College's Fiddle, Banjo and Dance Club Jamboree on Saturday, December 11. The show will mark the 20th anniversary of the Club's Jamborees and will begin at 6:00 p.m. in Edwards Hall at NRCC in Dublin.
Big Country Bluegrass is a traditional bluegrass band formed by husband and wife Tommy and Teresa Sells in the late 1980's. Over the years, the band has played at numerous fiddler's conventions and competitions. While they no longer perform on the competition circuit, the band plays a steady stream of festivals and concert dates and has released over a dozen albums. The band members are Tommy Sells, mandolin; Teresa Sells, guitar and vocals; Jeff Michael, fiddle, lead guitar, and vocals; Johnny Williams, rhythm guitar and vocals; Lynwood Lunsford, banjo and vocals, and Tony King, acoustic bass fiddle. All six members live in areas near Galax, Va., known locally as the "mecca" of traditional bluegrass music.
The Whitetop Mountain Band is a family band from Whitetop, Va. that originated in the 1940's and specializes in old-time fiddling and banjo picking. However, their performances are also noted for their versatility, often containing blues, classic country, and honky tonk pieces, in addition to traditional bluegrass. The band has performed at square dances, festivals, and competitions throughout the United States and has performed internationally in the United Kingdom and Australia. The band's current members are Thornton Spencer, fiddle; Emily Spencer, banjo and vocals; Martha Spencer, guitar, banjo, fiddle, bass, and vocals; Jackson Cunningham, mandolin, guitar, and vocals; Spencer Pennington, guitar and vocals; and Debbie Bramer, bass.
In addition to the performances, a drawing will be held during the show for a Martin D-15 guitar. Tickets for the drawing will be available at the concert.
Corporate sponsors of the jamborees include CVS Pharmacy, Dublin; Pulaski County Patriot, Pulaski; Pepsi Cola Bottling Co.; King's Tire Service, Pulaski; WPSK Radio; Shoney's Restaurant, Dublin; Wade's Supermarket, Dublin; Pulaski County Chamber of Commerce and Trader's Emporium & Estate Jewelry Services, Dublin.
The doors open at 5 p.m. for the show. There is no charge for admission; however, donations will be accepted to help pay travel expenses for the musicians. The jamborees are held the second Saturday of each month through April at NRCC.
More information about the NRCC Fiddle, Banjo, and Dance Club is available from Roger Adkins at 674-3600, ext. 4307, and online at http://www.nr.edu/fiddle .