Online music course at NRCC begins in March
Feb 19 2021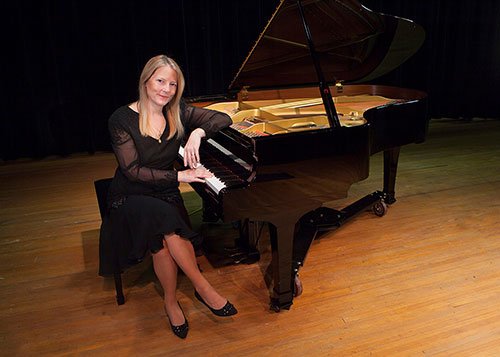 New River Community College is offering an online music class as a 10 and 7 week course for the spring semester.
Music in Society (MUS 121) is being offered as a 10-week course that begins online March 1 and as a 7-week course that begins online March 22. The course is transferrable to four-year colleges/universities and explores the language of music through an introduction to basic elements, forms and styles across time. Students will become acquainted with composers' lives and influential creative individualities, while discovering representative works and milestones in western society. Students will also develop techniques for listening analytically and critically and review historical development and significance of art music within the context of evolving societal structures.
The music course is taught by Dr. Louise Billaud, NRCC professor of music and concert pianist in residence, who trained in the United States and France. In 2014, she received the Outstanding Faculty Award by the State Council of Higher Education for Virginia (SCHEV), earned a doctorate of musical arts in music education from Boston University, and was honored by the National Association for Music Education (NAfME) ACME SRIG with the award for Outstanding Doctoral Dissertation. Billaud has presented research findings at NAfME, Suncoast Music Education Research Symposium and Music and Lifelong Learning national and international conferences. She was keynote speaker for the Virginia Community College System's New Faculty Forum and for Education Symposia.
Billaud is a National Certified Teacher of Music (NCTM) of the Music Teachers National Association (MTNA) and was most recently recognized with the Albert Nelson Marquis Lifetime Achievement Award, Marquis Who's Who Top Educator and Top Artist awards.
Past students have enjoyed Billaud's classes and have provided positive feedback about what they learn. Previous students have said, "This forum in particular seems to challenge us to find the unexpected musical connections, to see that we are not alone in a vast virtual sea, but more powerful than ever in our ability to connect musically," and "It has really expanded my horizons when it comes to listening and discovering new music, which has been enlightening for me."
Music in Society will also be offered online during the summer session, along with Fundamentals of Music.
The class schedule is available at www.nr.edu/schedule. Current NRCC students may register for classes online by visiting their student accounts. New students or those who may need additional support can reach out to an advisor by emailing advising@nr.edu or call (540) 674-3609.
For students who are new to online learning and for those in need of enhanced support services, NRCC has additional support services for remote and online learning available at www.nr.edu/remoteresources.
Prospective NRCC students may visit www.nr.edu/register for enrollment information.