Blacksburg Partnership donates funds to support ACCE students at NRCC
Oct 17 2019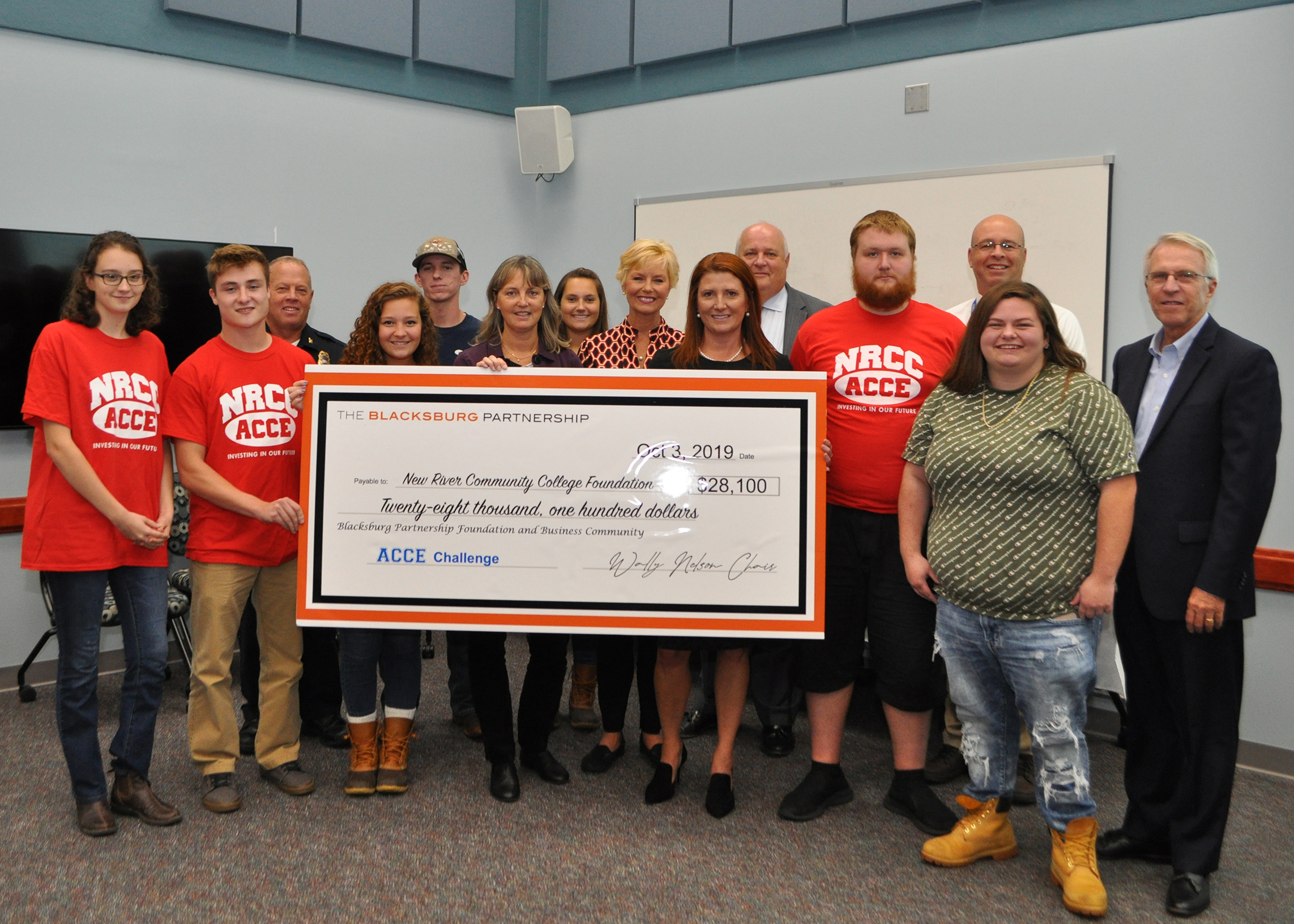 New River Community College Educational Foundation recently received a generous donation from the Blacksburg Partnership Foundation to support NRCC students.
A check for $28,100 was presented on Oct. 8, 2019, at NRCC by Blacksburg Partnership board members Kristi Snyder, past chair, and Wally Nelson, current chair.
The donation will support NRCC's Access to Community College Education (ACCE) program for Montgomery County students. ACCE is an economic development public/private partnership that makes college available debt-free to high school and home-schooled graduates by funding NRCC tuition for two years.

"The Blacksburg Partnership was instrumental in the initial creation and now the continued success of ACCE, and we are overwhelmed and beyond grateful for the generosity that the Partnership and the Blacksburg business community have shown to NRCC students in Montgomery County," said Angie Covey, executive director of the NRCC Educational Foundation. "As a result, Montgomery County students and their families continue to benefit from the education they are receiving at NRCC."
"ACCE is more than just an educational program, it's a community-wide commitment to helping young people chart the course for their future," remarked Diane Akers, president of the Blacksburg Partnership. "The Blacksburg Partnership is honored to be a part of such an effort, and we look forward to witnessing the success of the program and the students who are participating."
The Blacksburg Partnership Foundation provided $10,000, with a challenge to the organization's business community members to match that gift with an additional $15,000; the business community answered with $18,100, well beyond the goal.
ACCE at NRCC supports the youth of participating counties by making college within reach. With the support of ACCE, students graduate from NRCC prepared to join the workforce or transfer to a four-year university without college debt. In exchange, ACCE students give back to their communities through community service in their local area.
The Blacksburg Partnership is an economic development partnership between town government, Virginia Tech, and the local business community. The Partnership seeks to foster high quality of life, promote the Blacksburg area, attract retailers, assist in the planning and development of properties in Blacksburg's commercial and retail districts, facilitate the development process, and participate in commercial development projects.
For more information about ACCE at NRCC, visit www.nr.edu/acce.
PHOTO:
Miriam Jones (NRCC student), John Case (NRCC student), Chief Anthony Wilson (Blacksburg Police Department), Carlie Simmers (NRCC student), Zachary Durham (NRCC student), Kristi Snyder (Blacksburg Partnership current chair), Samantha Keith (NRCC student), Diane Akers (Blacksburg Partnership president), Angie Covey (NRCC Educational Foundation executive director), Wally Nelson (Blacksburg Partnership past chair), Parker Wertz (NRCC student), Peter Anderson (NRCC vice president for instruction & student services) , Lexi Caldwell, (NRCC student), Ed Lawhorn (NRCC Educational Foundation board chair)