NRCC graduate soars in internship at NASA
May 16 2019
This is an archived article!
This article was published on May 16 2019 and was archived on May 17 2020. The information below may be outdated or inaccurate.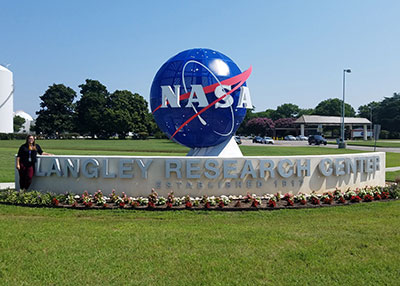 When Brianna Adamo graduated from New River Community College on May 15, she took with her not only an associate degree in engineering design technology but also the experience of having an internship at NASA.
Brianna, from Blacksburg, was selected last spring to take part in a 10-week paid internship at NASA Langley Research Center as part of the "STEM Takes Flight at Virginia's Community Colleges" initiative. She worked over the summer at Langley with 250 interns from universities and colleges across the country. She was placed with the electronic systems branch along with two other interns on her team.
The team was tasked with designing a prototype for a rover that will carry a multi-million dollar spectrometer. By the end of the summer, Brianna had designed several enclosures, one specifically for the spectrometer, all the mounting systems and a roll cage. To share her work from the summer, Brianna created three presentations including a branch meeting presentation, two poster sessions and a technical report.
Brianna said, "With this work, they are getting students to think about how we would design them, but it is part of a NASA Planetary Exploration Program."
Brianna's internship provided her with the opportunity to put her classroom knowledge to work in real-life scenarios, and it also provided her with experiences outside the learning lab.
"I got to work with really cool people, tour Wallops Island, see the machine shop and control room where they talk to astronauts, and go to the beach," said Brianna.
After excelling during her internship over the summer, Brianna continued that success in her classes this year. At a recent President's Awards Ceremony at NRCC, Jeff Levy, engineering design technology program head and instructor, chose her as an outstanding student in that program.
"Brianna will be a rising superstar in the world of engineering design with as much potential as any student I have ever taught," says Jeff Levy. "Her work ethic and dedication to excellence is what separates her from the pack. I look forward to seeing what the future holds for her."
Now that she has her degree, Brianna will be working full-time for Motion Control Systems, Inc. in the New River Valley while beginning NRCC's engineering program as well.
While not in the classroom or working, Brianna finds time to play softball, including NASA's softball league last summer, participate in CrossFit and volunteer with the Special Olympics. She enjoys being outdoors in the New River Valley by kayaking, camping or hiking with her two dogs.