Cox and Company and Sugar Run to perform at NRCC
Sep 29 2017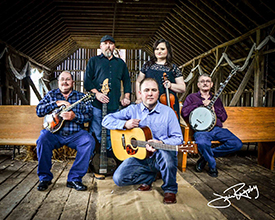 The music of Cox & Company and Sugar Run will be featured during New River Community College's Fiddle, Banjo and Dance Club Jamboree on Saturday, Oct. 14. Music will begin at 6 p.m. in 117 Edwards Hall at NRCC in Dublin.
Musician Joey Cox grew up in Pulaski County listening to bluegrass music with his family and has played it for as long as he can remember. He started playing at age 10 with his grandfather's band, the "Black Mountain Ramblers." After placing at many local competitions, he joined the Hillsville-based group "Fast Forward." He has also played in the bands Blue Ridge and Lou Reid & Carolina and with the legendary Doyle Lawson and his band Quicksilver. Cox & Company is a traditional and contemporary bluegrass band based out of Southwest Virginia. The band includes Joey Cox, guitar, banjo and vocals; Crystal Shipley, fiddle and vocals; Barry Collins, banjo, bass and harmony vocals; Patrick Robertson, bass, guitar and vocals; and Gale Shockley, mandolin and harmony vocals.
Sugar Run is a band from the Alleghany Mountains that regularly performs in the New River Valley and Greenbrier Valley. Their music consists of traditional music of the Southern Appalachian and Piedmont regions in the style of bluegrass, old-time, old "country" music and Cajun tunes. The group includes Mike Johnson, banjo, guitar and vocals; Bonnie Johnson, bass fiddle and vocals; Geoff White, fiddle and vocals; Rachel Johnson, fiddle; and Stanley Asbury, guitar and vocals.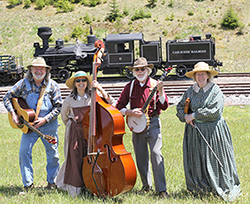 Corporate sponsors of the jamborees include Anderson Audiology, Dublin; Duncan Ford – Lincoln – Mazda, Blacksburg; Estes Auto & Truck Parts Inc., Pilot; First Community Bank, Pulaski; Gregory Seeding Landscaping Company, Pulaski; King's Tire Service, Pulaski; Pepsi Cola Bottling Co., Dublin; Pulaski Patriot, Pulaski; Shoney's Restaurant, Dublin; Southern Furniture Warehouse, Radford; Sunshine Tours, Dublin; Trader's Emporium and Jewelry Services, Dublin; Wade's Supermarket.
The doors open at 5 p.m. for the show. There is no charge for admission; however, donations will be accepted to help travel expenses for the musicians. The jamborees are held the second Saturday of each month through April at NRCC, a Crooked Road affiliated venue.
More information about the NRCC Fiddle, Banjo, and Dance Club is available from Tim Jones at 674-3683, and online at http://www.nr.edu/fiddle.