Meet NRCC's New College Board Members
Aug 18 2017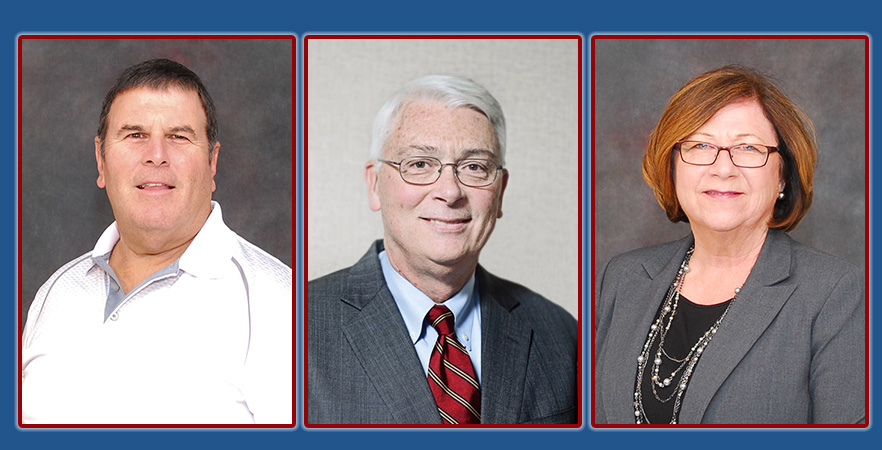 Richard L. Chidester
Richard L. Chidester, of Pearisburg, started his education at Southside Virginia Community College, earning an associate degree in police science in 1976. He earned a bachelor's degree in administration of justice with a concentration in police planning and management from Virginia Commonwealth University in 1977 and a juris doctorate from the Marshall Wythe School of Law in 1982.
He has served as the Giles County attorney since 1984, and full-time since January 2017. He was former principal in Hartley & Chidester, P.C. law firm. He also served as a campus police officer at the College of William and Mary from 1977 to 1982.
He is a member of the Pembroke First United Methodist Church and Local Government Attorneys of Virginia.
Chidester's wife, Toni, is a retired teacher. They have two children, Dr. Michelle Linkous and Michael Chidester and five grandchildren, Carson, James, Ellie, Luke and Paisley.
He enjoys golf and fishing in his free time.
Steven W. Kaylor
Steven W. Kaylor retired from the newspaper business after nearly 40 years in the industry. He most recently was publisher of the Danville Register and Bee in when he retired in 2016. He has a bachelor's degree from the University of Florida.
Kaylor is a member of the Floyd County Chamber of Commerce, the Floyd Rotary Club, the United Way of Montgomery, Radford and Floyd public relations team and the New River Valley Beekeepers Association.
He has served in various leadership roles with the Danville-Pittsylvania Chamber of Commerce, United Way of Danville-Pittsylvania County, the Future of the Piedmont, the Olde Dominion Agricultural Board, Riverside Rotary of Danville and the Boys and Girls Club of Danville-Pittsylvania County.
Kaylor resides in Meadows of Dan with his wife Nancy. They have one son, the Honorable Sherwood Coleman, a daughter-in-law, Jennifer, and two granddaughters, Madeline and Ellen, all of Clearwater, Fla.
His hobbies include travel and beekeeping.
Dr. Sharon G. Scott
Early in her career as an educator, Sharon G. Scott, Ph.D., served as an intern for the New River Community College Division of Business and Related Technologies during winter quarter 1983. She later taught marketing, fashion, and sales promotion and management-related courses as an adjunct faculty member for NRCC in the mid-1980s and early 1990s. She joined Indian River Community College in Florida as a faculty member in the business department and also served as Director of Business Development and the Small Business Development Center, where she counseled entrepreneurs and designed customized training programs for business and industry. While pursuing her Ph.D., she served as associate director of management and professional development for the Pamplin College of Business at Virginia Tech from 1996 to 2011.
Currently the executive director of the Montgomery County Chamber of Commerce, she resides in Christiansburg with her husband John Tutle.
She earned a bachelor's degree in home economics and elementary education from Longwood College (now Longwood University) in 1977, a master's degree in vocational and technical education in 1992 from Virginia Tech, and a Ph. D. in training and development with an emphasis in management, leadership and human resource management from Virginia Tech in 2010.
She currently serves as a board member of the Virginia Association of Chamber of Commerce Executives and the Alliance for Better Childcare Strategies. Over the course of her career, she has been active in numerous community, educational and professional organizations. She has earned some awards, most recently the 2012 Outstanding Achievement Award from the Virginia Police Chiefs Foundation and the 2010 Volunteer of the Year Award from the board of directors of the Montgomery County Chamber of Commerce.
She enjoys gardening, gourmet foods, wine, traveling, and volunteering with local non-profits including the Ronald McDonald House, Christiansburg Presbyterian Church and Habitat for Humanity.