NRCC library hosting a book signing for local authors
Nov 03 2016
This is an archived article!
This article was published on Nov 03 2016 and was archived on Nov 04 2017. The information below may be outdated or inaccurate.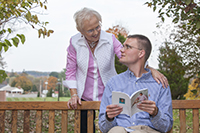 Keaton Hanks, a New River Community College graduate, will appear at a book signing on Sunday, Nov. 13, with his grandmother, Faye Hanks. The event sponsored by the NRCC library, will be from 2 to 4 p.m. at the Student Lounge in Martin Hall at NRCC in Dublin.
The book he and his grandmother wrote is titled "Keaton's Story: The Surprising Uniqueness of Autism" and covers his life, early childhood through today, and what life is like with Asperger's.
To write a book was initially Faye's idea that she mentioned to her grandson five years ago. Keaton never forgot her idea about a book, and wanted to make it a reality.
In the book, Keaton and Faye talk about his success in high school and college. Keaton moved to Pulaski in the fifth grade. While at Pulaski County High School, he was named homecoming king.
"Pulaski County schools were great for him. They provided him with everything he needed," said Faye.
Keaton attended NRCC from Aug. 2010 to Dec. 2012 and studied administrative support technology.
He is employed by EAC2 Consulting and has worked there for over three years.
The book will be on sale for $10 at the signing. All profits from the book will go to the Community Foundation of the New River Valley to help autistic adults find employment.
The Hanks family is publishing the book through Wordsprint in Blacksburg.