NRCC student Ammon Miller receives national Coca-Cola scholarship
Oct 03 2016
This is an archived article!
This article was published on Oct 03 2016 and was archived on Oct 04 2017. The information below may be outdated or inaccurate.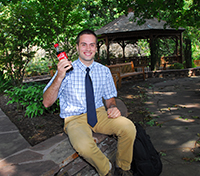 Ammon "AJ" Miller, a student at New River Community College, has been awarded a national Coca-Cola "Leaders of Promise" scholarship.
The Leaders of Promise scholarship program helps new members of the Phi Theta Kappa honor society with financial expenses while enrolled at a two-year college. Miller is one of 200 Phi Theta Kappa members from across the nation to receive a $1,000 scholarship.
Miller, from Giles County, is studying instrumentation and control automation. "I have always enjoyed repairing things and learning how something works," he says. Before starting college last year, he worked full time in automotive repair. Miller enjoys working with innovative technology, and hopes to work with programmable logic controllers or as an instrumentation technician.
Upon graduating in May 2017 with an associate degree, Miller plans to get a job in the fields of instrumentation and engineering. "I would love to be able to work with technology to help impact many lives in a positive way," he said.
Miller said he grew up Amish where he was taught to work hard and appreciate the simple things. His family left the Amish community when he was a teenager, which was a significant change in his life.
Miller is a first generation college student, and says through hard work and self-determination he is achieving his academic goals. He has earned three other scholarships for this year including the Michael D. Gallaher scholarship through the NRCC Educational Foundation, and was voted the chapter president of Phi Theta Kappa for 2016-2017. The past two years, Miller also spent his time as a volunteer firefighter at Popular Hill Fire Department.
While Miller says initially he chose NRCC because it is local and affordable, he also appreciates that it is a small college. "It opens so many more doors of opportunities, which I would not have been able to access without college," he said. Miller added that it is great the president and instructors can know you personally.