Are you looking for

highly skilled, qualified

workers?
Let us help you find them at the
New River Valley Job Fair Expo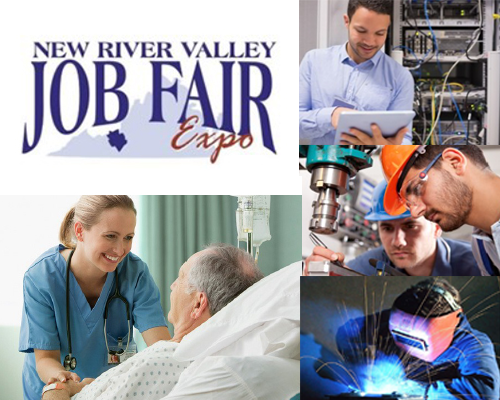 If your company has open positions in the healthcare, manufacturing, information technology or service industries, this event is one that you don't want to miss. The New River Valley Job Fair Expo is focused on connecting companies with talented and highly skilled workers in these industry sectors.
New River Community College, Dublin, VA
Edwards Hall, Room 117
Wednesday, April 3, 2019
9:00 a.m. - noon
(Set-up begins at 8:00 a.m.)
The registration fee is $95 and includes booth space with a draped table, two chairs and lunch.
Current Companies Registered:
Adecco
Amcor
Americold
Backcountry.com
BAE Systems
Baseline Solar Solutions
Blue Ridge PBS
Celanese
Commonwealth Senior Living at Christiansburg
Consolidated Construction Service, Inc.
Corning Incorporated
EHS
Elwood Staffing
Express Employment Professionals
Federal-Mogul
FedEx Ground
Gay and Neel, Inc.
G.D. USA
Hajoca Corporation
HCA Lewisgale Physicians
Heritage Hall Blacksburg
Highland Memory Gardens
Hollingsworth & Vose
Imperial Group
Integer
Kollmorgen
Korona Candles Inc.
Kroger
Luttrell Staffing Group
Montgomery County Public Schools
Moog Inc.
Mountain Lake Lodge
New Millennium Building Systems
New River Valley Regional Jail
Phoenix Packaging Operations LLC
Positive Radio Group
Pulaski Health & Rehab
Radford Health & Rehab Center
Radford University
Richfield Living
Rudy L. Hawkins Electrical, Inc.
Seymour Staffing
Shelor MotorMile
Skyline Nursing and Rehab Center
Southwest VA Moving & Storage
Spectrum Brands
Strengthening Our System, Inc.
SWM International
The National Bank of Blacksburg
Thomas Industrial Fabrication
Thompson & Litton
Virginia State Police
Virginia Tech
Virginia Tech Police
Volvo Trucks North America
VPT, Inc.
Wall Residences
Warm Hearth Village
Western VA Regional Jail
Workforce Unlimited, LLC
Companies registered as of March 27, 2019.
HAVE QUESTIONS ABOUT NRCC?
NRCC IN DUBLIN:
5251 College Drive
Dublin, VA 24084
(540) 674-3600
Toll Free: 866-462-6722
Fax: (540) 674-3642
MALL SITE:
782 New River Road NW, Suite 400
Christiansburg, VA 24073
(540) 674-3610
Fax: (540) 381-7128