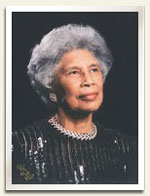 John T. and Nannie B. Hairston Scholarship
Please join us in honoring John T. and Nannie B. Hairston by contributing to the scholarship.
Through generous gifts to the New River Community College Educational Foundation, two scholarships will forever honor a Christiansburg couple known for decades of community building. When 92-year old Nannie B. Hairston was named one of the Strong Men & Women in Virginia History by Dominion Virginia Power and the Library of Virginia she received a monetary gift. She donated that $5,000 gift to the NRCC Educational Foundation as seed money to establish an endowed scholarship in memory of her husband, John T. Hairston.
She and her family, along with the Foundation, are raising $20,000 in additional funds for the scholarship. Her daughters Colette Hash, Dy-Anne Penn, Edwina Miles and Catherine McDaniel are working closely with the Foundation staff to secure funding to fully endow the scholarship. Drs. Jack and Mary Ann Lewis have pledged matching gifts for each donation received toward the scholarship to create a second John T. and Nannie B. Hairston Scholarship for deserving NRCC students.
HAVE QUESTIONS ABOUT NRCC?
STAY CONNECTED
MILITARY FRIENDLY SCHOOL

NRCC IN DUBLIN:
5251 College Drive
Dublin, VA 24084
(540) 674-3600
Toll Free: 866-462-6722
Fax: (540) 674-3642
MALL SITE:
782 New River Road NW, Suite 400
Christiansburg, VA 24073
(540) 674-3610
Fax: (540) 381-7128