Randolph House Foundation pledges $25,000 to support Pulaski County ACCE
Aug 21 2017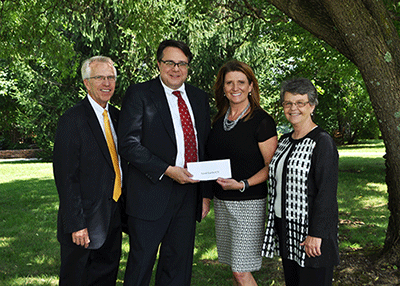 Released by the Randolph House Foundation:
The Board of Directors of the Randolph House Foundation proudly announces their commitment to support the Pulaski County ACCE (Access to Community College Education) program at New River Community College with a $25,000 pledge.
"We want our Pulaski County students to have the same opportunities to participate in this excellent program. With this first donation, we challenge other charitable organizations, individuals and the Pulaski County Board of Supervisors to step up and participate as well with their monetary support," said Mike Fleenor, Treasurer of the Randolph House Foundation.
ACCE is an economic development public/private partnership that makes college available debt-free to high school, home-schooled and private school graduates. ACCE covers tuition on the condition that participants complete the FAFSA (Free Application for Federal Student Aid), graduate high school with a minimum 2.5 GPA, and perform 80 hours of community service a year.
The goal of ACCE is that students will graduate from NRCC prepared to join the workforce or transfer to a four-year university without college debt. ACCE supports as many students as possible based on student need and funds available for the program.
The project will close the gap between financial aid and total tuition costs. Each year there are just over 300 graduates from PCHS. With the unique design of the ACCE program, we will reach every student. However, not every student will need ACCE funding.
Angie Covey, New River Community College Foundation Director said, "This is a wise investment in our community, economy and the future of Pulaski County. We will grow the workforce of tomorrow through investing in today. ACCE will create a generation of youth who see college as attainable which will necessitate their placing value in their high school academics in order to quality for ACCE. ACCE will also create a culture of youth who are shown the value of giving back through community service.
Ultimately a trained/skilled/educated generation will enhance our economic development which will keep jobs in our county as well as bring new jobs to our county.
Our history shows that expanding educational ACCESS is a key to ensuring that fruits of economic growth are shared by everyone. ACCE does this and does so with accountability and valuable lessons about service and contribution to one's community," said Angie Covey, Executive Director of New River Community College Educational Foundation.
The Randolph House Foundation is a non-profit charitable foundation that supports various entities in Pulaski County. For many years it has been a major financial contributor to the Pulaski YMCA, the Pulaski County Free Clinic, the Pulaski County Adult Day Care Center, the Pulaski Theatre and many other organizations.
"We are very excited to lead the community with our pledge of $25,000 and we look forward to working with Angie Covey to bring this program to fruition," said Fleenor.