NRCC Alumni Profile: Jeremy Withers
Dec 18 2013
This is an archived article!
This article was published on Dec 18 2013 and was archived on Dec 19 2014. The information below may be outdated or inaccurate.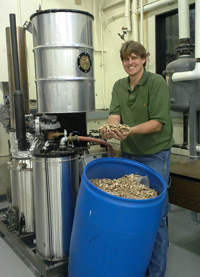 What makes a successful business owner drop everything and decide to further his education? In New River Community College alumnus Jeremy Withers' case, it was a passion for the environment.
Withers, of Christiansburg, first came to NRCC in the early nineties, after he finished high school. But after just a couple semesters of classes, he decided to leave college and try his hand in the business world. He started a successful landscaping business with several crews caring for 100 lawns at its peak. But then, Withers describes, he hit a plateau. "Without an education, I couldn't get larger contracts," he says. "All the really interesting jobs were out there and I could see them, but couldn't touch them."
Equipment depreciation and financial difficulties eventually caught up with Withers and his landscaping business went under. He went on to start a construction business and the pattern repeated itself - he achieved early success, but found himself stymied by a lack of education and resources.
Withers gave up running his own business and went to work for other contracting companies. It was then that he began to realize a true interest in environmental protection. "All the contractors I worked for were really talented," says Withers. "But they damaged the environment on a large scale." The former Boy Scout found himself exceptionally bothered by the impact of contractors burying or burning their construction waste and decided he just couldn't take it anymore.
While attending a conference at Virginia Tech with his wife (then a student there), he met Dr. Robert Smith, professor and head of the university's sustainable biomaterials department. Withers explained his frustrations with the damaging environmental practices going on in the construction field and asked Smith for advice.
Smith showed him information about wood recycling and other projects the department was working on and Withers was hooked. "Dr. Smith changed my life," he says. He left the contracting field behind and decided to go back to school.
But before joining the sustainable biomaterials department at Virginia Tech, Withers decided to return to NRCC in 2009. "There was a huge difference in my motivation when I went back to NRCC," he says. "I had a vision - I wanted to make a change in my community." The newly motivated Withers excelled in his NRCC courses and successfully transferred to Virginia Tech in 2011.
Now, Withers is working toward finishing a bachelor's degree in wood science and forest products business while also taking graduate level classes in pursuit of a master's degree in sustainable biomaterials. He's also involved in several student groups. Add to that the fact that he's a father of three children, ages two, five and 17. He's a very busy person. But despite spending a lot of time doing schoolwork he says he uses it as a learning opportunity for his children. "Anything I bring home that's lab-type work, I try to have my five-year-old son help me with it," he says. "He's just getting to the age where he can focus on things with a magnifying glass, so it's really great." He notes that having family support has been key in helping him achieve his goals.
Withers also works as a graduate assistant to Dr. Henry Quesada-Pineda, an assistant professor in the university's department of sustainable biomaterials. This work has helped him narrow down his future career plans - research. He wants to continue much of his current biomaterials research work with an ultimate goal of "doing one good thing for the world."
As he works to reach his own future goals, he has some simple, but poignant advice for others looking to reach theirs: "Anybody can do it - you just have to have vision."