Andy McCready: Where opportunity meets preparation
Jun 25 2013
This is an archived article!
This article was published on Jun 25 2013 and was archived on Jun 26 2014. The information below may be outdated or inaccurate.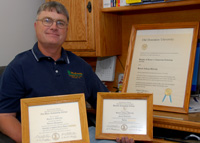 Danville, New River, Patrick Henry, Paul D. Camp, Thomas Nelson and Tidewater Community Colleges. Howard A. (Andy) McCready, business owner and elected official in Pulaski County, can say he has attended them all. Oh, and don't forget Radford University and Old Dominion University (ODU) on the list of this "lifelong learning" repertoire. He holds degrees from three of these institutions - all earned within a five-year period.
How does a person earn three degrees in five years? Some could say luck might have a hand in it, others like McCready would say, "It's where opportunity meets preparation." That's one of his go-to phrases.
He didn't set out to break any educational records; he just wanted to earn a degree in the hands-on field of electrical engineering technology. A 1977 graduate of Martinsville High School, McCready entered Danville Community College (DCC) and spent two years and two summers earning his first associate degree in general electronics, with a magna cum laude designation.
He graduated from DCC on a Saturday in August 1979, left for Norfolk the following day and on Monday started classes at ODU. He spent the academic year of 1979-80 there, but found that he needed a lot of general education classes to earn a degree from ODU. That's when he decided he would enroll at Radford for a year to take those needed credits. His high school sweetheart, Karen, who is now his wife of 30 years, was a student there and he thought his time could be better spent in the New River Valley for the 1980-81 academic year.
Every Friday after his 3 p.m. class, they would drive back home to Martinsville. With flash cards in hand, Karen would test him on his calculus theorems as he sat behind the wheel for the two-hour drive. McCready worked 20 hours at a lumber mill on the weekends so he could pay his own way through college. The drive-time/study-time helped him keep up with his college work.
But, he wasn't only a full-time student at Radford that academic year. Two weeks after he enrolled in Radford, he started taking business management classes at nearby New River Community College. While enrolled that quarter for 18 credit hours at Radford, he also enrolled for 17 credits at New River. He didn't tell anyone at either institution, because he was afraid someone at one of them would tell him he couldn't do it. But he said, "It was my time and my money." So he would take day and evening classes; sleep from 7 p.m. to 1 or 2 a.m., get up to read and study; then start the day in his dual college classes all over again. It wasn't until the end of spring quarter 1981, that he confessed to professors at NRCC that he was dually-enrolled full-time at NRCC and Radford.
"I plotted a course," McCready said, "I knew I eventually wanted to own my own business." The business management classes and eventual associate degree from NRCC would help him pave the way.
The summer of 1981, back at home in Martinsville, he took an evening business course at Patrick Henry Community College knowing that he could transfer those credits to New River. Then that fall he re-entered ODU, taking with him the general education credits he had earned at Radford. Consistent with his well-honed work ethic of being a full-time student simultaneously at two colleges the previous year, he found extra ways of spending his time efficiently back at ODU. While taking a full load of classes for his electrical engineering technology degree there, he taught a lab class in electrical motors as an undergraduate and picked up evening classes at Thomas Nelson and Tidewater (Virginia Beach campus) Community Colleges toward his business degree at New River. In late May 1982, he graduated cum laude from ODU; a couple of weeks later he graduated cum laude from New River with an associate degree in business management. That's three degrees in five years.His first job after graduating from ODU was as a plant engineer for Union Camp, a paper mill, in Franklin,