NRCC president announces retirement
Jun 22 2016
This is an archived article!
This article was published on Jun 22 2016 and was archived on Jun 23 2017. The information below may be outdated or inaccurate.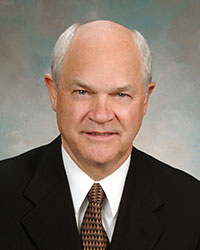 New River Community College's fifth president, Dr. Jack M. Lewis, has announced plans for his retirement.
The official announcement to the campus community was made Wednesday, with his retirement to be effective at the end of fall semester 2016.
Lewis has served at New River in various capacities for nearly 42 years. While a doctoral student at Virginia Tech, he was hired in 1974 to manage NRCC's administrative data processing department. Over the following decades, he became director of management information systems, dean of management services, dean of instruction and student services, and dean of the college before being named New River's president in 2000. During that time Lewis has also led the development of several management systems used not only by NRCC, but also other community colleges throughout the state.
Lewis notes that in his various administrative positions, he has served under every chancellor since the formation of the Virginia Community College System. He says this has been a special privilege beginning with the founding VCCS chancellor, Dr. Dana Hamel (whom Lewis calls "the most passionate advocate of postsecondary education I have known") and continuing to the current chancellor, Dr. Glenn DuBois, cited by Lewis for "his unparalleled vision and leadership in promoting student success."
While president, Lewis became known across the state for his innovative use of technology supporting teaching and learning. He opened the New River Valley Mall site, a STEM Center, in 2007 and expanded the site in 2016 to total over 37,500 square feet of instructional and administrative space.
Other developments under his leadership have included the beautification of the campus in Dublin with a number of major enhancements, the growth of the college's distance learning program with nearly a third of all instruction now delivered through online courses, and tripling the assets of the NRCC Educational Foundation.
When asked to single out the most transcendent improvement during his tenure, Lewis points to a major initiative undertaken during the last two years focusing on student success. Based on the concept of intentional engagement, this has included introducing a new orientation program, establishing an Office of Accountability in Student Learning, and creating online systems for supporting student success.
Long active in community service, Lewis is currently chair of the Blue Ridge Public Television Board of Directors and LewisGale Hospital Montgomery Board of Directors, and is a member of the Virginia Community College System Advisory Council of Presidents, National Bankshares, Inc., Board of Directors, Virginia Tech Corporate Research Center Board of Directors, the New River Valley Economic Development Alliance, the Alliance for Better Childcare Strategies Board, Pulaski Rotary Club, the Pulaski Science Club and regional chambers of commerce.
He is married to Dr. Mary Ann Lewis and lives in Blacksburg. They have three sons and eight grandchildren.