Machining grad returns to NRCC - as a pro
Aug 28 2014
This is an archived article!
This article was published on Aug 28 2014 and was archived on Aug 29 2015. The information below may be outdated or inaccurate.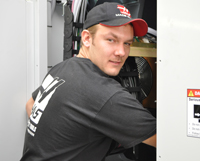 He may have graduated from New River Community College in the spring of 2014, but J.R. Sowers was back in the college's machine shop recently. Only now, it was as a professional.
Sowers, of Christiansburg, made his way to NRCC after high school and planned to study business. But a keen desire to work with his hands got the better of him and he switched to studying welding and machining. With his newfound machining skills, he went on to a job as a machinist at Belding Tool and Machine in Christiansburg, where he worked for two years.
Now, Sowers works for the Jeffreys Division of the Phillips Corporation, installing and repairing high-tech Haas Automation computer numerical control machines. Though still a trainee, he's travelled up and down the east coast working on the machines wherever they may be - from factories that make parts for jet engines, to nuclear power plants and military bases. "Anybody that makes anything will have machines like these," he says.
He counts the travel and the diversity of his working environment as some of his favorite aspects of the job.
As a trained machinist, one might wonder what advice he'd give to student machinists. "Stick with it," Sowers says. "Going to school is tough, but it's worth it."
His trainer, Bill Lewis, echoed Sowers' sentiment. "I'd tell students to learn all you can learn while you're here," he says. "There are lots of job opportunities out there, if you're willing to travel."