David Frizzell and Helen Cornelius to perform at NRCC in October
Aug 13 2014
This is an archived article!
This article was published on Aug 13 2014 and was archived on Aug 14 2015. The information below may be outdated or inaccurate.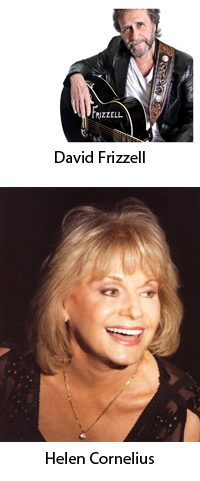 Country music artists David Frizzell and Helen Cornelius will perform a concert at New River Community College in Dublin on Saturday, October 25 at 7:30 p.m.
Tickets for the show will go on sale beginning Monday, September 15 at 8:00 a.m. Prices are $30 for reserved seats and $20 for general seating. Reserved seating tickets are available for purchase online only at www.nr.edu/fiddle. General seating tickets will be available for purchase online, at the Pulaski County Visitors Center on Cleburne Boulevard in Dublin and at the NRCC Office of Workforce Development.
David Frizzell began performing and touring with his older brother, Lefty Frizzell as a teenager. He began recording country and rockabilly albums for Columbia Records at the age of 18. After a four-year stint in the military, Frizzell re-signed with Columbia and continued his recording career. He has headlined country shows in Las Vegas and was part of the duo "Frizzell and West," who recorded the hit single "You're the Reason God Made Oklahoma." As a solo artist, Frizzell is known for his chart-topping hit "I'm Gonna Hire A Wino To Decorate Our Home." He has won numerous awards as part of Frizzell and West and as a solo artist and has been nominated for three Grammys.
Helen Cornelius began her career as a songwriter in Nashville, having had songs recorded by musicians such as the Oak Ridge Boys, Reba McEntire, Jeannie C. Riley and Connie Smith by the mid-1970s. She received her first recording contract with RCA records in 1975. From there, she became an integral part of the Jim Ed Brown Show, where she spent more than four years. She has since toured with Conway Twitty, played the lead in a road show revival of "Annie Get Your Gun," toured with the Statler Brothers and played a variety of other engagements from dinner theaters to the Grand Ladies of Country Music Show in Branson, Missouri.
Doors will open for the show at 6:30 p.m. Information is also available on the NRCC Fiddle, Banjo and Dance Club website, www.nr.edu/fiddle. Questions may be directed to Roger Adkins at 674-3600, ext. 4307.