NRCC CAD instructor helps students 'keep it real'
Aug 01 2014
This is an archived article!
This article was published on Aug 01 2014 and was archived on Aug 02 2015. The information below may be outdated or inaccurate.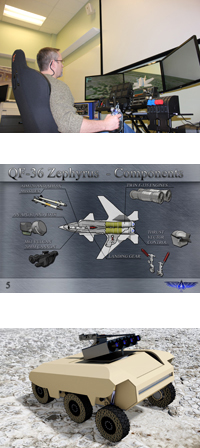 When it comes to assigning student projects, New River Community College CAD instructor Jeff Levy prides himself on "keeping it real."
He pairs teams of his computer aided drafting students with engineering students to help simulate the diverse working environment they'll encounter when they graduate. Then, he asks the teams to "develop a solution for a very complex problem." And, he emphasizes, those solutions have to work.
Often, Levy bases the projects he assigns on current requests for proposals put out by the U.S. Department of Defense. "So, their solutions have to be viable," he says. "They have to fall within a set of parameters that are created by organizations like DARPA [the Defense Advanced Research Projects Agency], NASA, the Air Force or the Army."
Last year, CAD and engineering student teams designed an unmanned ground vehicle and an unmanned aerial vehicle down to the finest detail. The UGV was designed as a modular military vehicle, with an interchangeable midsection that could accept special parts for tactical, reconnaissance and riot control missions. The UAV or "unmanned air superiority fighter," was designed as a technologically advanced fifth-generation stealth military aircraft with low probability of intercept radar and a unique forward-swept wing design.
Another team continued working on design efforts begun the previous year to create a full-scale model of the Queen Anne's Revenge - the flagship of famed pirate Blackbeard. The students are taking each timber and recreating it, in detail, to assemble into an overall digital model of the ship. And while a pirate ship from the 1700's might not seem to fit the mold of "real-world" projects, Levy says that the ship provides the students the opportunity to do something they'll end up doing a lot in the field - reverse engineering. "That's the commonality between the QAR and our other projects," he says. "Even though you may be developing something new, you start with a proven concept and use reverse engineering to help you get there."
In keeping with his focus on working designs and key industry skills, last spring Levy turned the reality up a notch by adding computational fluid dynamics software and a flight simulator to his lab at the NRCC mall site in Christiansburg. The software allows students to examine the flow of fluids (including air) over an object - like an aircraft. The simulator lets them actually fly an aircraft. "It's one thing to see arrows flow over a winged surface," says Levy. "But that still doesn't tell you if it actually flies."
The large flight simulator emulates a real airplane cockpit, using multiple computer screens to show the pilot different views, numerous instruments and a joystick designed to respond to the slightest movement. It's even FAA certified, meaning pilots of one or two engine aircrafts could be recertified using the simulator. The complex machine also allows students to take off from almost any airport in the world, allowing them and their designs to experience different types of runways, weather and visibility conditions.
The implementation of the new CFD software and flight simulator gives students a sense of satisfaction about their designs rarely experienced outside of a factory or a flight line, Levy says. "Now, not only do our students' designs look good and theoretically they fly - they do fly."