NRCC offering 3-D printing in new course
Jul 31 2014
This is an archived article!
This article was published on Jul 31 2014 and was archived on Aug 01 2015. The information below may be outdated or inaccurate.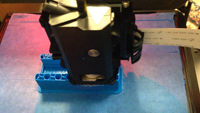 A new course in Desktop Manufacturing Technologies will be available in the fall 2014 semester at New River Community College's New River Valley Mall site in Christiansburg. It will take place on Tuesdays and Thursdays from 3 to 5:30 p.m.
The course will focus on desktop 3-D printing and will allow students the opportunity to learn a variety of aspects of additive manufacturing. Students will work with three different types of 3-D printers, including the MakerBot. Course topics include 3-D printing history, current technologies and trends, future development of 3-D printing and applications and art in 3-D printing. Additionally, students will examine 3-D modelling software and laser engraving with vector graphics. No pre-requisite is required to take the course.
Registration is in progress. Fall classes begin August 25.
Class schedules are available at www.nr.edu/schedule. Current NRCC students may register for classes online by visiting their student accounts.
Prospective NRCC students may visit www.nr.edu/admissions/ for enrollment information or call the Admissions Office at 540-674-3603.