Ten students graduate from NRCC's practical nursing program
Jul 28 2014
This is an archived article!
This article was published on Jul 28 2014 and was archived on Jul 29 2015. The information below may be outdated or inaccurate.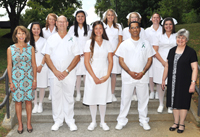 Ten New River Community College students have completed requirements for the three-semester practical nursing program at the college. They received certificates and participated in a pinning ceremony on July 25.
Practical nursing graduates were Manoj Kumar Acharya of Blacksburg, Carla Cristobal Gaviola of Christiansburg, Christy Lynn Harman of Christiansburg, Cierra Nicole Harris of Shawsville, Danielle Harris of Riner, Alicia Faith Ketch of Blacksburg, Kim Nguyen of Blacksburg, Laura Beth O'Neal of Pulaski, Sierra Ann Saunders of Pulaski and Paul Douglas Turpin of Pulaski.
Carla Gaviola was chosen by her peers to give the graduation address Alicia Ketch led the nurses in reciting the Florence Nightingale Pledge.
NRCC's certificate program prepares students to qualify as contributing members of a health team, rendering patient care in a variety of health service facilities. These students are eligible to take the Virginia Board of Nursing examination leading to licensing as a Licensed Practical Nurse (LPN).
PHOTO CUTLINE:
First row from left: Mia Copeland, associate professor of practical nursing; Paul Turpin, Alicia Ketch, Manoj Acharya, LaRue Ridenhour, associate professor of practical nursing.
Second row, from left: Carla Gaviola, Cierra Harris, Kim Nguyen, Laura O'Neal, Sierra Saunders, Christy Harman, Danielle Harris.