VT/VCCS articulation agreement supports future engineers
Jul 10 2014
This is an archived article!
This article was published on Jul 10 2014 and was archived on Jul 11 2015. The information below may be outdated or inaccurate.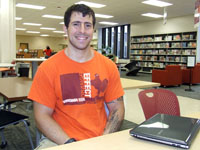 When someone says "engineering degree" in the New River Valley, it's often swiftly followed by "Virginia Tech." With a College of Engineering that ranks in the 15th in the nation as reported by U.S. News and World Report in its annual survey of undergraduate programs, it's no wonder Virginia Tech is a popular choice for students with their eyes on a future in engineering. So popular, in fact, that the college's pool of freshman applications for 2013-2014 reached an all-time high of 7,391. Students who accepted an offer of admission to the college had a mean grade point average of 4.12 and a mean SAT score of 1303.
With a large, competitive freshman applicant pool, some students choose to begin their studies at New River Community College and take advantage of a unique transfer agreement between Virginia Tech and the Virginia Community College System. Under the agreement, a student who completes an engineering associate degree at a VCCS college and meets GPA requirements is guaranteed admission to Virginia Tech's College of Engineering.
The agreement is beneficial to both the College of Engineering and NRCC students seeking an engineering career. Christi Boone, the College of Engineering's director of academic support services, highly recommends the transfer option to students and notes several benefits including the ability to spend their first two years in the smaller academic setting found at a community college and a significant financial savings over spending four full years at Virginia Tech. She estimates a savings of about $11,000 for a student who attends NRCC for their first two years and then transfers to Virginia Tech, versus one who enters Tech as a freshman. Boone also points out another advantage to taking part in the engineering transfer agreement - obtaining multiple degrees. "Having that associate degree can make a difference for students when they're applying for internships or research positions while they're working on their bachelor's degree," she says.
Josam Waterman is a senior in the College of Engineering who knows about the transfer agreement's benefits firsthand. After five years in the Marines, Waterman headed to Blacksburg with an eye on studying at Virginia Tech, where his fiancée was completing her degree. But his return from military duty overseas came just after Tech's application deadline. That's when he discovered NRCC. "I called New River and talked to a counselor who made it a really easy process," he says.
Waterman praises the college's small class sizes and helpful professors and says those are some of the reasons he elected to remain at NRCC and complete his associate degree in engineering, rather than transferring sooner. "The smaller class sizes made it easier to ask lots of questions in my beginning courses," he says.
Now that he's heading into his senior year at Virginia Tech, he's focusing on hands-on coursework and working on a research project with one of his professors on vortex-induced vibration.
He's also considering his future employment. While he's keeping his options open, he confesses he does have a dream job in mind. "I'd love to work for the Mustang or Corvette design team," says Waterman.
And would he recommend beginning their studies at NRCC to other future engineers? "Definitely," he says.