NRCC receives $1 million grant from Siemens
Jun 20 2014
This is an archived article!
This article was published on Jun 20 2014 and was archived on Jun 21 2015. The information below may be outdated or inaccurate.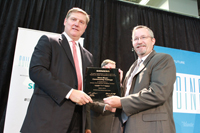 Recently, Siemens announced more than one billion dollars of in-kind software grants for manufacturing programs at community colleges and universities in Virginia. The grants were announced at the Commonwealth Center for Advanced Manufacturing (CCAM) as part of an event with The Atlantic to discuss advanced manufacturing. Students will now have access to the same Siemens product lifecycle management (PLM) software used throughout the global manufacturing industry to design, develop and manufacture some of the world's most sophisticated products in a variety of industries. Here, New River Community College drafting instructor Jeff Levy (right) receives a plaque recognizing the occasion from Siemens President and CEO Eric A. Spiegel. NRCC students will benefit from Siemens' grant of over $1 million in software to the college for its advanced manufacturing programs.